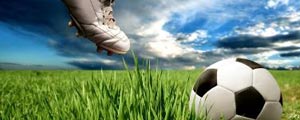 WITH the Cosafa Castle Cup campaign over, it is now time to put the best national football team available in this weekend's first leg, second round qualifier against Mauritius for the 2014 edition of the African Nations Championships (Chan).
NewsDay Editorial
The Warriors, who arrived back in Zimbabwe from Zambia on Sunday night, will resume training today ahead of their scheduled departure on Thursday or Friday with the sole aim of avoiding defeat in the Indian Ocean nation and finishing the job at home in two weeks' time.
Zimbabwe have played in the last two editions of Chan — a tournament designed by the Confederation of African Football (Caf) for locally-based players only — in Ivory Coast and Sudan — and that has seen a number of our players go on to play international football.
From the Cosafa games in Zambia, we could tell that the philosophy of the coach, Klaus Dieter Pagels, was right, but he did not have the right material to put up a winning team and that compromised his selection.
He has a contract which expires on July 31 and naturally, cannot be in charge of this one away game to Mauritius unless things change.
What is of importance is that the new coach be given all the support he needs for his inaugural campaign — starting with proper travelling arrangements and proper material to use. Being restricted to two players a team means, he has to compromise on some of the things he needs to do.
In Zambia, Nkana Red Devils and Nchanga Rangers contributed 12 players to the 20-member squad that eventually got the better of the Warriors 2-0 in last Saturday's final.
So, if it means Ian Gorowa or Pagels needs four players each from Harare City, Highlanders, Dynamos and Caps United, then let it be. In any case, the way the Premier Soccer League has been designed has put the programme way ahead of schedule and there will be little disruption caused by two games.
The league ends at the end of November and was only supposed to be in Week 16, but is in Week 18. Further, there are no league matches this weekend as the BancABC Super Eight semi-finals will be taking place in Bulawayo involving just four teams — Dynamos, Monomotapa, FC Platinum and Shabanie Mine.
Football Association of Zambia president Kalusha Bwalya has adopted the simple mantra — "we just play all the time". If this can be the buzzword from Zifa, then they will understand the importance of qualifying for the Chan finals set for South Africa next year. What is vital is continuity for Zifa, both in the technical department and player material, and unity which can only bring results.
The Premier Soccer League needs to support the national team at all costs, by letting them have the best players for such competitions as Cosafa and Chan. If that does not happen, then the coach will be burdened with players who are not even regulars at their own clubs.
We don't need passengers who believe that playing for the national team is about allowances and bonuses, but also the pride of raising the national flag.
In any case, it is every Zimbabwean player's dream to play for his national team and in the World Cup, Afcon, Chan and Cosafa tournaments.