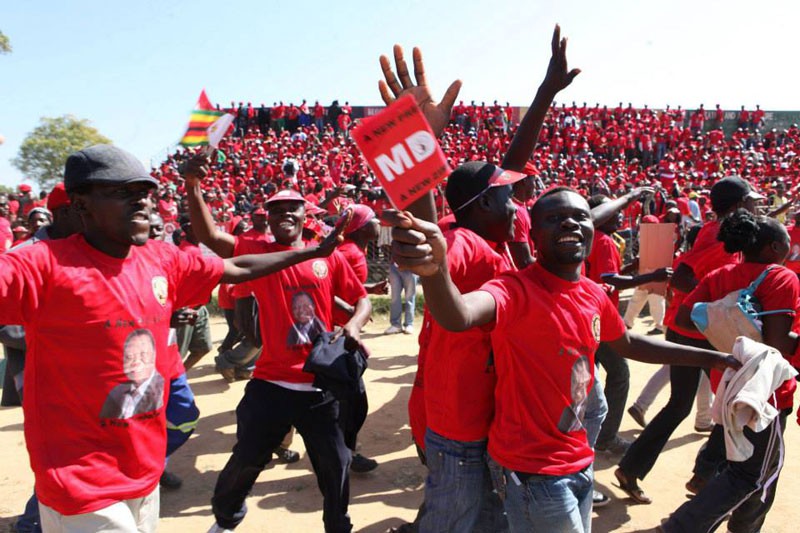 On July 7, 2013 MDC President Morgan Tsvangirai launched the party's Election Manifest at Rudhaka Stadium in Marondera, in Mashonaland East Province under the theme: " A New Zimbabwe: The Time is Now".
By Charles Mangongera
The Manifesto lays a firm foundation for Zimbabwe's reconstruction and sustainable growth and is anchored on six key issues which are, building a governance framework that prioritises respect for human rights and constitutionalism, growing the economy to create new wealth and decent jobs, rehabilitating and modernizing Zimbabwe's infrastructure, effectively delivering social services to citizens, creating a security sector that prioritises human security and not regime security, and international re-engagement.
Without a doubt the 2013 Election is an issue based one. While ZANU (PF) has anchored its campaign on nationalisation of private enterprises, the MDC is proffering job creation as one of its key deliverables.
In a country where 80% of people are unemployed, this is apt. Zimbabwe is sitting on a time bomb and risks social and political unrest and if we do not create enough job opportunities for the millions of youths that are leaving universities, colleges and polytechnics every year. What these youths want are job opportunities that will give them dignity and pull them out of poverty.
Granted some of them dream of running successful businesses of their own in the future. But they also know that they need industry experience to do so and they understand that not all of them can move straight from lecture rooms to corporate boardrooms without the requisite experience.
They fully comprehend the ZANU (PF) phantom of a societal nirvana where every Zimbabwean will own a company.
But the critical question that many have asked is how the MDC will create one million jobs in five years. Firstly a point of correction.
There has been a misconception by some that the MDC's jobs plan as enunciated in the Jobs Upliftment, Investment Capital and Environment (JUICE) and Agenda for Real Transformation (ART) documents, is premised only on foreign direct investment (FDI).
Nothing can be further from the truth. While JUICE lays out a comprehensive plan for luring foreign businesses to invest in Zimbabwe, it is also about creating a conducive environment for the creation of new wealth by Zimbabweans.
JUICE recognises that Zimbabweans are enterprising and entrepreneurial and that given the right policy menu, they will flourish. The fundamental issue is how do we create more successful entrepreneurs like Strive Masiiwa, Shingi Mutasa, Tawanda Nyambirai and Nigel Chanakira, to name a few?
The answer is that we need to create a legal, constitutional and macroeconomic framework that encourages wealth creation by innovative Zimbabweans. The irony is that ZANU (PF) claims to be the champion of black economic empowerment yet it has been at the forefront of decimating black capital.
Under ZANU PF many black Zimbabwean business executives were harassed by the state. Examples include Nigel Chanakira, Mntuli Ncube, Gilbert Muponda, Nicholas Vingirayi, among others. Hundreds of thousands of jobs were lost as a ZANU (PF) government obliterated the financial institutions created by these enterprising Zimbabweans.
Strive Massiiwa fought a vicious legal battle on his way to setting up what is now arguably one of Zimbabwe's most successful businesses. Had it not been for the intervention of the late Father Zimbabwe , Joshua Nkomo, Masiiwa would have kissed good-bye his dream of starting a mobile telecommunications company. ZANU (PF) chefs could not grant him an operating license because they wanted to entangle him in its complex web of crony capitalism.
In order to attract meaningful investment that is going to result in job creation, an MDC government is going to implement coherent, effective and forward looking policies that will create a conducive environment for investment by Zimbabweans and by foreign businesses.
We plan to review Zimbabwe's investment code to improve the country's easy of doing business ranking. The rule of law and respect for property rights are going to be sacrosanct under an MDC government. We are fully cognisant of the fact that no investor is going to pour money into a country where there is a high risk of expropriation. Investors also want to know that contracts will be honored and that where contracts are not honored there is a competent legal system to adjudicate disputes.
An MDC government will not hesitate to make bold decisions that will result in the generation jobs and to move the country forward. We will immediately repeal the current indigenization law, which has become an albatross around investors' necks. This is not to say that we are against the democratization of the economy. We are just confronting the reality that the 51% threshold for black ownership is unsustainable and has deterred investment.
No sane investor is going to bring in a billion dollars to a country where he or she is going to immediately forfeit 510 million dollars. Our economic model will focus on wealth creation and not wealth redistribution. We will invest in education and skills training that will generate a successful black business class that generates new wealth and does not simply grab existing wealth.
The manufacturing sector is going to play an important role in creating new jobs. Over the last 15 years Zimbabwe has experienced rapid de-industrialisation. We will prioritise the resuscitation of the manufacturing sector, which for decades has been the backbone of the economy. We recognise that modern prosperous economies have been built on the foundation of investment in new technologies that power the manufacturing sector.
The so-called 'South East Asian Tigers' of South Korea, Taiwan and Singapore have rapidly taken off because of careful investment targeted at the manufacturing sector. Less than fifty years ago South Korea had the same GDP as that of many African countries. But today it has emerged as one of the world's most prosperous economies. Samsung and Hyundai have not become global iconic brands by accident. They are a result of visionary thinking by the South Korean government, which targeted growing the manufacturingector as a basis for job creation and economic growth.
The agricultural sector has the potential to generate hundreds of thousands of jobs and the MDC has a plan to revive the sector to make it the backbone of Zimbabwe's economic recovery and growth. In line with the new constitution we will immediately operationalise the land commission so that it brings sanity to land management in Zimbabwe.
The first thing is to make sure that we conduct a comprehensive land audit that helps to unlock value in our land. The objective of the land audit is not only to enforce the one-farm-one-household policy but to also establish levels of productivity in order to develop evidence based intervention model for supporting agricultural productivity.
The other issue that we are going to urgently deal with is that of security of tenure for resettled farmers. Currently under the ZANU (PF) model of 99-year leases, land has been rendered dead capital that is not bankable. An MDC government is going to ensure that landowners have title and can use it as security to borrow for productive purposes.
We will create supportive conditions for investment in agro-processing through the creation of special economic zones and cluster-based development. Under an MDC government Zimbabwe will move from reliance on primary commodities to value addition, which will result in creation of jobs that pay decent salaries.
Massive investment in infrastructure rehabilitation and modernisation under an MDC government will also create employment opportunities for Zimbabweans. We have a comprehensive plan to rehabilitate existing roads and build new ones.
Through public-private partnerships we will revive our railway infrastructure and modernize it so that it becomes an enabler of economic growth and offers the public reliable, efficient and affordable transportation. Guided by our social democratic values we have placed shelter at the core of people centered development and we will reduce the national housing backlog through innovative partnerships between government and the private sector.
Our rural transformation plan will see us providing water, energy and health services to rural communities and this will create job opportunities.
The mining sector has demonstrated immense job creation potential but has been hamstrung by bad policies and corruption. We will immediately review our mining legislation to ensure that investment in the mining sector unlocks true value for Zimbabweans and that mining revenues are ploughed back into developing the mining sector so that it creates more jobs.
We will also revive the tourism sector, which has the potential to generate vast job opportunities. Our international re-engagement programme will see us mending damaged relationships with tourism source countries that have abandoned Zimbabwe because of Mugabe's racist rants.
Across the African continent the growth of the ICT sector has created new frontiers for wealth creation and employment generation. We will harness the immense potential that exists in this sector to support the creation of new employment opportunities. The success of the Ecocash business model is a telling example of how ICT growth and the uptake in mobile technology usage can create job opportunities.
We are acutely aware of the scale of the challenges that lie ahead as we are inheriting more than three decades of economic and social destruction from ZANU (PF). But we are confident that Zimbabweans are committed to building a prosperous country in which they will enjoy dignity, respect and happiness. It's time to move to more jobs.
Charles Mangongera is the Director of Policy and Research in the MDC-T