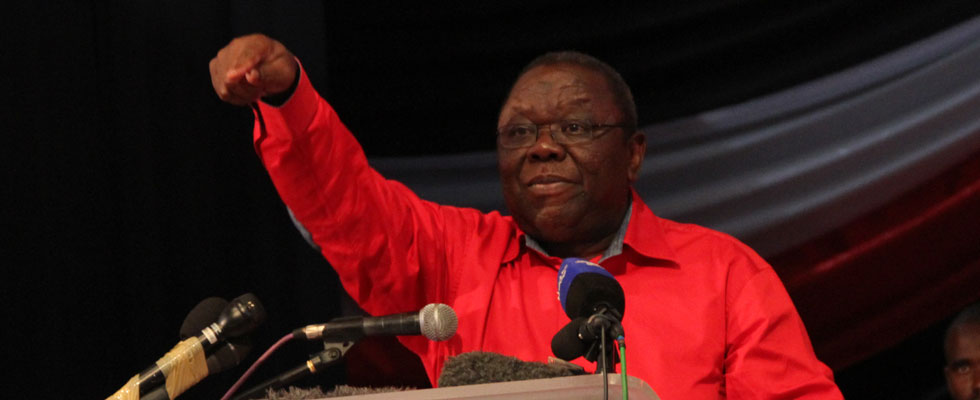 MDC-T leader Prime Minister Morgan Tsvangirai yesterday attacked the visiting African Union (AU) Commission chairperson Nkosazana Dlamini-Zuma, accusing her of partiality and working in cahoots with Zanu PF to legitimise what he described as an illegitimate July 31 election.
REPORT BY MOSES MATENGA/WONAI MASVINGISE
Addressing a Press conference at his party headquarters in Harare, Tsvangirai said Dlamini-Zuma had lied to the world during her Press briefing earlier in the day where she claimed that all the three principals in the inclusive government were happy with the election process.
"With five days to go to the watershed elections I met the AU chairperson (Dlamini-Zuma) yesterday and I understand she has made a statement that all principals are happy and that no issues were raised to her. I just want to correct that," Tsvangirai said.
He said he had raised the issues of a chaotic voter registration exercise and lack of transparency around the voters' roll during his meeting with Dlamini-Zuma the previous day.
"For one to say that I did not say anything is not only unfortunate, but downright misleading, Tsvangirai said."
"You ask her why she said that. I didn't meet her in private where then it becomes my word against hers. We know her background. It's an unfortunate position to take. I pointed out these issues to her, why could she want to do that? It puts into question her integrity as an impartial observer in this process. No one wants a contestable outcome"
Earlier, Dlamini-Zuma told journalists that the principals were satisfied with the Election preparations.
"I had meetings with all the leaders and from what they have told us, they are willing to accept the result even if they have not won and the process was fine. No one said to us that we are not going to accept the result," Dlamini-Zuma said.
"They (MDC-T) have not said anything on rigging. I have met the leader of the MDC-T, Deputy Prime Minister Arthur Mutambara and (MDC leader) Professor Welshman (Ncube) and none of them mentioned that document and none of them even raised the word rigging."
"None of them mentioned any militia. In fact, all of them commented on the peaceful environment. We are not expecting that there are any militias that are being prepared."
But, Tsvangirai dismissed her claims as untrue, adding his party was going to participate in the Wednesday poll with "a heavy heart".
"It's with a heavy heart that we are participating in this election because reforms agreed to were not implemented," he said.
The MDC-T leader cited massive intimidation of his supporters by traditional leaders and lack of transparency in the whole electoral process, particularly on printing of ballot papers and non-accreditation of journalists from the region to cover the elections and members of the Joint Monitoring and Implementation Committee as poll observers. He also expressed concern over reports that civilian drivers tasked with distribution of ballot material had been replaced by army personnel while police had been clandestinely awarded the tender to print ballot papers in contravention of the Electoral Act and public tender regulations.
Tsvangirai said his party was also worried that the final voters' roll had not yet been made public with just four days before the polls while the number of polling stations in perceived MDC-T strongholds had been slashed, especially in Harare.
"But perhaps the most glaring case is where ballots cast during the special vote were discovered in a bin (at a local hotel). These are ballots that had been cast in my favour, but were discovered in a bin. The question is how many such ballots were thrown away and what replaced them?"
Tsvangirai said more people had registered in military barracks than those who stay there, raising concern over possible rigging.
"There is an attempt to militarise the electoral process. Some of the technical work has been moved from the Registrar-General's Office to KG6 (army barracks).
We have seen an attempt to use members of the security sector. Though I am frustrated, I am very bullish about the outcome of this election. It will indicate how resilient the people are."
Later, Tsvangirai addressed a campaign rally at Domboshawa Showgrounds where he pledged to rebuild the the rural infrastructure. MDC-T national organising secretary Nelson Chamisa said his party had unearthed a Zanu PF plot to release "dirty video tapes" depicting Tsvangirai in bad light on the eve of the polls as part of its campaign strategy.