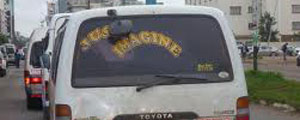 A JOKE doing the rounds in town has it that a tout was asked which car should go first at a traffic light-controlled intersection.
Jairos Saunyama
After noticing that commuter omnibuses always flout roads regulations, he said "a Toyota Hiace", meaning kombis have first preference all the time.
The hwindis, as touts are often called, are well known for coining certain language which the ordinary passengers have struggled to understand.
The language is devised for a special purpose.
After a day's work, it is always a pleasure to lean back and listen to the kombi crew as they call passengers, "vabereki" (parents). There is a popular Shona lingo; hona mwana wako (there is your child) mostly used to tease potential "hikers" especially young ladies dressed to kill.
One day a commuter omnibus plying the Glen Norah-City route suddenly made a U-turn.
When passengers enquired the reason for the action, the hwindi just said "suicide, motorbike ahead," and everyone on board was puzzled. But it later dawned to the passengers that the hwindi was instructing the driver to use whatever alternative to evade the police.
The kombi crews have devised terms to separate the type of police manning the country's roads.
There is what they call Vemamboma, meaning those who have baton sticks notorious for smashing windscreens and Vana VaChihuri, meaning police officers who ticket them.
Like it or hate it, you might hear the hwindi saying, "Action vabereki," this implies that passengers should act fast, jumping into the vehicle at illegal pick-up and drop off points.
Time and again commuters might have heard the kombi driver saying "Ndafema!" Never think of the literal breathing.
This is just a way of saying the route plied was not as paying as anticipated.
Another famous saying, "Kusvipa Shura," often catches the commuting public unaware, but it's not a big deal. It simply means forced offloading due to either a mechanical fault or by police officers manning the roads.
Passengers may have been surprised to hear a commuter omnibus conductor saying, "We need a rerun," one would be mistaken to think of the infamous June 2008 election rerun.
This has been reinvented to imply that the driver should back to the route that would have paid well.
It's always a pleasure to listen to kombi crew, and marvel at their creativity as they go about their business every day.
Godfrey Bonzo, a conductor, said the kombi crew naturally devises ways to communicate with vabereki (commuters).
"It starts with only one person, and spread like veld fire to the entire kombi kingdom from Market Square to Fourth Street terminus,' said the conductor.
If a fat woman boards a kombi they say, "tagarwa nemalandlords" and if it is a police officer he is called Chinamira, meaning one who doesn't pay bus fares.
Currently those who have half fares are often directed to sit at a place called Facebook or Kadoma, while others call it "face the nation".
In Bulawayo, it is the same as touts use Ndebele words in their day-to-day job.
The commuter omnibus is refered as Umjeje while a trip to the city centre is called Etoni. Passengers are often referred to as "makhiwa" (bosses).
Common words in the City of Kings include Tollgate, which means a police roadblock ahead while Imoto ensthonshimali refers to the BMW vehicle used by traffic police.
When a conductor wants to collect fares from passengers they say, "Azibuye nge tray" which means lets pay while others say Asiyibongeni badala (let's appreciate).
When a kombi travels a long distance without dropping a passenger one can hear, Yi hire yomgcwabo yini badala? (Has this kombi been hired to carry mourners).
If there are too many at the bus stop, the conductor will shout Kumanzi and if the passengers have big bodies one will hear the word Izakhamuzi.
Hwindis are called by all sorts of names, but looking at how the crews coin and popularise their language, one can only marvel.