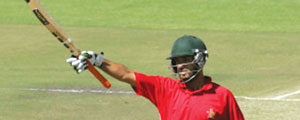 HARARE — A maiden international fifty against the world champions would give most cricketers cause to celebrate. But for Sikandar Raza, reaching the 80s and not going on to a hundred left him bitterly disappointed.
Cricinfo
The second one day international (ODI) is at Harare Sports Club this morning.
"A friend of mine just asked me something," he said after Zimbabwe's six-wicket defeat to India. "He asked me: 'How did it feel when Virat got his hundred?' I tell you, that question stung me properly. I'm going to remember that for the rest of my life. I'm not going to find these opportunities a lot, so when I do I'm going to have to make sure that I convert them."
"I'll definitely be in the nets after this press conference," he said. "I've got a few areas to brush up on, so that if I find myself with the same opportunity, I'm not putting myself under pressure and neither am I putting my team under pressure."
After losing the toss on a lively pitch first thing in the morning, Zimbabwe were indeed under pressure from the very start. "History tells us that at (Harare) Sports Club batting first is always very tricky," Raza said. "It was nipping around. From one side it was skidding and from the other side it was not coming on to the bat. That was happening, along with the movement and seam, so it was quite tricky to bat. So what we decided was that we're going to keep wickets in hand, because that would give our team a better chance to post a competitive total."
Sticking to such a defensive gameplan couldn't have been easy for a batsman who built his domestic reputation upon innings of daring adventure. He sums up his batting technique as "see ball, hit ball, and try to survive mate", and once shared a partnership of 98 with Brian Lara — a batsman known to play a few shots himself — in Zimbabwe's domestic Twenty20 competition to which Lara contributed just 11. Today, he played more blocks than slogs but still finished with a strike rate of 73.21 and eight boundaries.
"The flair will stay there, and I hope it stays there for the rest of my career," Raza said. "But the fact is when you're playing international cricket at such a high level you're not going to get bad balls and if I'm trying to make something out of nothing I'm going to throw my wicket away.