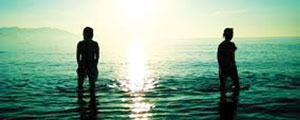 "My friend told me that he had experienced a spate of bad luck and did not get a good increment as compared to his work colleagues.
Report by Jairos Saunyama
"In deep frustration, he said he left his job and was out of work for two months. He went to Beira, Mozambique, where he bathed in sea water.
"One day, he met an old buddy from his schooldays and this buddy wanted him to help out as the general manager at his company. He happily took the offer and it brought him a lucrative income and was given a company vehicle . . . ," said a middle aged man, who was telling his story in a kombi that was travelling from Marondera to Harare.
It seems as if it was just a kombi tale by passengers who were trying to buy time and make the journey shorter through rib-cracking stories, but the use of sea water in the country has been welcomed with open hands.
Many people are of the belief that if one bathes in sea water, it will wash away bad luck and this has seen demand for sea water increasing every day in the country.
In a survey conducted by the NewsDay Lifestyle, a number of people are travelling to Beira and Durban, South Africa, where they dip themselves in the sea as they seek removal of bad luck and misfortunes.
On the other hand, cross-border traders have become sources of the "purifying water" as they bring it back home each time they go either to South Africa or Beira. "Each time I go to Beira five or six people will order sea water. They say it removes bad luck and other misfortunes.
"Sometimes I bring more of it and people do not hesitate to buy it. I sell it for $5 per 300ml and people just buy," said Winnet Mhondiwa, a cross-border trader who stays in Marondera.
In an interview, Togarasei Manuwere, a Wedza-based traditional healer, said sea water was the best and effective solution for countering bad luck and misfortunes.
"If one bathes in sea water he is a clean one. The water purifies, that is it can remove all the bad luck, misfortunes and even witchcraft.
"The reason is that the water contains salt and salt is well known for even preventing witches from entering people's homes. So by bathing in sea water one will be bathing using salt at the same time cleansing himself.
"I used to have it and people would come back testifying about the effectiveness of the sea water," he said.
Beauty Chikata, who used sea water as a solution to a spate of misfortunes, confirmed how effective it is.
"Bathing or using sea water really worked for me. I was 35 years old and I could not get married. I had a number of relationships and they would die a natural death.
"So when I was working in South Africa in 2011 my boss, a Portuguese national, went on a ship cruise and brought me sea water. He told me about how sea water is good in cleansing a person of bad luck.
"I bathed with it three times and guess what, my boyfriend who had been quiet for seven years called from America and asked me if I was still interested.
"We got along and last year he returned to Zimbabwe and we got married. This is how the sea water worked for me," she said.
Harare sociologist Darlington Nyabiko said the use of sea water is nothing, but a belief by people who are superstitious.
"The moral of the story above is that luck is something not so straightforward. To some people, a smooth sailing year free from illnesses and debts can already be considered good luck, but others could think otherwise.
"But some people think that if a year is without breakthrough and big gains, it sometimes could be considered unfruitful or if someone doesn't get married in time she is bewitched.
"Therefore, the root cause of bad luck could be due to 'expectation'. If one has too high an expectation on something and not able to attain it, then they might think it is bad luck," he said.
However, Evangelist Partson Mawuyo of Shining Glory Ministries described the use of sea water as satanic.
"The use of sea water is indeed satanic and as Christians only the blood of Jesus and the Holy Spirit can cleanse a person.
"The devil and his agents live under the sea and hence they have corrupted the people's minds that the use of marine water will help them," he said.