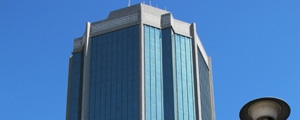 THE Reserve Bank of Zimbabwe (RBZ) has said local banks should embrace mobile banking platforms to remain relevant as the public moves from conventional brick and mortar banking.
Report by Tarisai Mandizha
Speaking at the Small to Medium Enterprises seminar yesterday, RBZ deputy governor Khupukile Mlambo said the apex bank had to date registered 18 financial institutions to adopt mobile financial services in a bid to promote financial inclusion.
The central bank said mobile banking was emerging as the preferred platform for the thriving business sector.
Mlambo said following the approval of the establishment of mobile banking services by three mobile network operators — Econet, Telecel and NetOne — in collaboration with local banks, mobile banking transactions increased to $381,61 million in 2012 from $7,87 million recorded in the previous year.
"Banks don't like M-Pesa (of Kenya) or EcoCash, if that is the sentiment it's unfortunate because that's where the future is. There is no rocket science with M-Pesa or EcoCash. People used to put money on the bus, but today we don't have to do that anymore," Mlambo said.
"It's unfortunate if banks think they are being threatened by mobile banking transfer, but I think they should embrace it. Mobile banking is a very significant innovation for the country not only for individuals, but for the nation as a whole."
According to a recent government survey, SMEs contribute between 60% to 70% of the gross domestic product. But the central bank is concerned that the take-up of official banking products by SMEs is low.
Figures released by the central bank that only 18% of SMEs in Zimbabwe have access to financial services resulting in an estimated $2 billion circulating outside the formal banking channels.
"We don't want the banks to lose out from this revolution. In Kenya, they resisted for a long time, but eventually they came around. You cannot ignore technology," Mlambo said.
"As a central bank, we are insisting that all registered financial institutions should embrace mobile technology so we have approved 18 institutions and three telecoms companies as of now to work together."
Meanwhile, the RBZ said E-money and electronic payments guidelines may be issued by end of September 2013. The central bank should also complete agency banking guidelines by December 31.
"In line with these developments, the central bank will continue to consult widely with other regulatory bodies and relevant stakeholders including Ministry of Finance, Ministry of Transport and Communications, Ministry of ICT, Postal and Telecommunications Regulatory Authority of Zimbabwe and Bankers' Association of Zimbabwe in the development of payment systems in the country," RBZ governor Gideon Gono said in the first term Monetary Policy Statement in January.
Early this year, there was a standoff between some local banks and Econet over the guidelines expected to regulate the telecom company's mobile banking service, EcoCash.