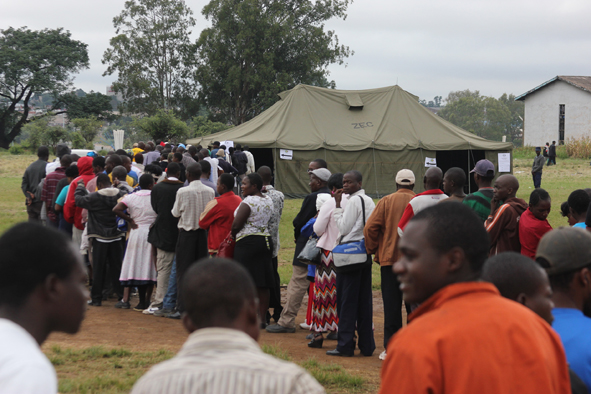 Elections, like any other contest, presuppose the possibility of losing. For that reason, contestants, though naturally aspiring to win, must be prepared to lose. There is always a tomorrow and "return matches".
NewsDayEditorial
In that spirit, Zimbabweans should be ready to congratulate whoever wins after the votes are cast on Wednesday.
There is every possibility of President Robert Mugabe, at 89, being retained, or Morgan Tsvangirai moving to State House, or, though highly unlikely, Welshman Ncube pulling the rug from both the two top contenders.
The truth and fact of life is that Zimbabweans deserve whatever government they get to govern them for the next five years.
That is what they will have chosen — given that the Zimbabwe Electoral Commission (Zec) does a professional job and does not allow the election to be stolen as has been feared to have happened in previous elections.
If it is the same group of people that have ruled this country for the past 33 years, most of which have been blighted by all sorts of tribulations and agony, so be it! It is in the power of the voter to choose the leader who will form the next government — between Mugabe and Tsvangirai.
These individuals will personally have the power to pick people who will be in the next government.
That is why the presidential vote is by far more important than the House of Assembly selection which, although critical in national law-making, is subservient to Cabinet.
There will be over six million people seeking to cast their votes in the 12 hours between 07:00hrs and 19:00hrs on Wednesday and there is no guarantee that time will be extended for any reason. It is therefore important that every registered voter ensures they are at the polling station as early as possible.
National elections are important and casting your ballot is not something that you can take for granted.
Your single ballot determines the destiny of your country through the leaders that are chosen to govern it. Wasting or giving up your opportunity to vote because the queues are too long or that you must attend to some other business or that you are too lazy to go to the polling station, is the worst thing anybody should want to do.
We do not expect any further bungling from Zec because if that happens, it might throw the whole election process into chaos. Zec should ensure that everybody that wants to vote is able to do so and, in the event the time is not enough, the electoral body must manage a smooth extension which does not open the ballot to theft.
What we should laud our politicians in this election is the peace that has prevailed so far. We want to see this atmosphere continue to prevail after the polls.
Let us go and vote in peace to decide the future of this country remembering we are doing it for our children and generations to come.