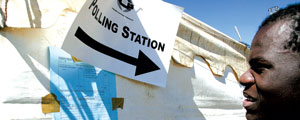 THE forthcoming harmonised elections scheduled for next Wednesday have generated so much interest resulting in the mushrooming of poll-related websites all aimed at providing information, including live coverage of results.
REPORT BY PHILLIP CHIDAVAENZI
Two of the recently-launched websites include the 2013 Harmonised Elections (www.electionride.com) and Zim Voices Elections (www.zimelections2013.com). Google has also set up a special hub http://www.google.co.zw/elections/ed/zw to aggregate content on Zimbabwe elections.
The development comes a month after another site, www.myzimvote.com, courted the ire of the authorities by providing voter registration information.
The 2013 Harmonised Elections site, which promises to provide its readers with election results, says on its profile page that it is not politically affiliated to any group and stresses that it will operate in accordance with the country's electoral laws.
"In accordance with Zimbabwe's electoral laws, electionride.com only displays results as published by the Zimbabwe Electoral Commission (Zec)," the website says.
However, under the Electoral Act, only Zec is authorised to publish election results after collating votes from all the constituencies.
"We are in the process of populating the candidates. We will cover this election the 21st century way."
The site has a discussion forum where readers interact as they discuss issues around corruption in government, unfair elections, the land reform and government incompetency.
The Zim Voices Elections has already started providing news on the run-up to the elections and has categories that include voting environment, infringements, electoral processes updates, polling stations and positive events.
So far the site has reports on events related to the elections that have happened since June 29. It also has a category under which people can provide reports on what is happening in their areas. Readers can also subscribe to receive alerts via e–mail or their mobile phones.
Another organisation calling itself Voter Watch is also disseminating election-related information via mobile phones.