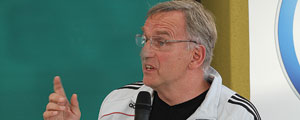 KLAUS DIETER Pagels is a satisfied man as he prepares to bid farewell to Zimbabwe next Wednesday.
REPORT BY SPORTS REPORTER
The Germany national, who was working on a government to government contract, will leave Harare on Wednesday evening aboard an Emirates airline, signalling an end to a three year spell when the 63 year-old worked as a Zifa technical advisor and then as a Warriors interim coach during the final quarter of his tenure.
Looking at Pagels' activity report since he arrived in the country in October 2010, one will appreciate that this is a man who did a lot for the country's football, especially on the development side.
He undertook grassroots coaching courses in all the country's 10 provinces and thousands of primary school teachers and community youth coaches benefited.
Pagels invited experts from his native country to work with Premier Soccer League coaches, national team coaches and referees in different programmes.
Grassroots coach Nina Meir arrived in the country in March 2011 for grassroots physiotherapy coaching courses. Physical fitness trainer Laura Daras also arrived in October last year and worked with women football coaches.
Renowned coach Eric Rutemoller was in the country twice and held refresher coaching courses with all the premier league and national team coaches in January last year and February this year.
Pagels also facilitated the Mighty Warriors' maiden trip in Europe where they had a two week training camp in his home city Stade in 2011 as well as assisting Zifa technical director Nelson Matongorere to attend a Euro 2012 coaching congress that was held in Augsburg, Germany in July 2012.
In March 2012, Pagels had conducted a provincial junior tournament which culminated in the setting up of the Under-14 boys national team and he also conducted a level One coaching course for all Mighty Warriors players last May.
Pagels was also a very affable character especially with the media. He was always available for a comment. The list can go on and on.
"My three years here were very good and enjoyable. Zimbabwe is now my second home," said Pagels who is a father in-law to Zimbabwe after his daughter married a local.
"The problem with Zimbabwe football is lack of sponsorship and money. This is really a big problem especially for Zifa. If the sponsors do not come, then the association will collapse. They fight hard to get money to finance and start programmes but if the money is not there then there is no future.
"The good thing is that I met lot of people in Zimbabwe especially in youth football and they were really engaging. I met people who do not have anything even the food for themselves but they wanted to share the few things they had with the kids for training and I was really impressed with that.
"Zimbabwe is now my second home and I like the people here and the country has a really great potential of talented players but then we come back to the issue of money. To identify and select these players you need money and that's the problem, the bridge between the bad and the good with Zimbabwe football," said Pagels in his final assessment of the country's football.
He will be remembered for his role in the last few months of his stay in the country.
After Zifa had disbanded the Warriors team in November last year, Pagels was thrust on the hot seat on an interim base.
He would go on to divide opinions with both his style of play and selection of personnel for the national team. Pagels faced criticism for overlooking players such as hardman Willard Katsande and Bradley Pritchard who were doing well for Kaizer Chiefs and Charlton Athletic respectively while opting for unknown quantities like Nicholas Guyo and Last Chibwiro who were struggling to break into first eleven for their modest clubs Monomotapa and Black Mambas.
Others also pointed out that Pagels tried to impose the tiki-taka style of play, which many believed is alien to the local players.