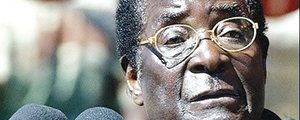 MASVINGO — Prime Minister Morgan Tsvangirai yesterday said his MDC-T party will give President Robert Mugabe his pension come July 31.
Tatenda Chitagu
He described the Zanu PF party as uncaring for endorsing the octogenarian's signature, saying they should have let him rest.
Addressing thousands of people at Mucheke Stadium, Tsvangirai said Mugabe should be given rest "until God decides on him".
"Zanu PF people are evil, vane utsinye (they are mean). Shuwa vangati murume mukuru akadaro abate gejo ivo vari mumumvuri? (How can they let the old man toil while they rest in the shade?)" he said amid laughter from the crowd.
He said the MDC-T was feeling pity for Mugabe and now wants to put him on pension.
"But as MDC-T, we feel pity for Mugabe. Tine tsitsi (We have mercy). "Tiri kuti mudhara chiendayi pa pension, tongokuchengetaiwo kusvika Mwari aita kutonga kwake (We are saying Mugabe go on pension and we will take care of him until God has judged)," he said.
Tsvangirai said the new Constitution prohibits those above 70 years to contest for the top post, but they waived it this time for Mugabe "to save him from dying of high blood pressure".
"Mugabe nharo dzake dzine mbiri (Mugabe is infamous for being stubborn). He has an age problem. I do not want to take advantage of the advanced age of my compatriot.
"We said the new Constitution must prohibit those above 70 years, but for now, we waived it for Mugabe. He was going to die of high blood pressure that old man," Tsvangirai said.
He scoffed at Mugabe's Zimbabwean dollar return promise, saying it did not make economic sense.
"I think that was a slip of the tongue when he said he will bring back the Zimbabwean dollar. That is bush economics," Tsvangirai said, while displaying wads of worthless Zimbabwean dollars.
He said in the event he loses the election, the country would slip back to the 2008 era.