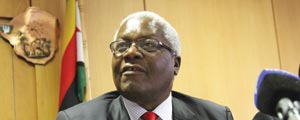 A COUNTRYWIDE health disaster is looming following the instruction by Local Government minister Ignatius Chombo ordering all urban and rural local authorities to scrap outstanding water and other bills owed by residents and ratepayers.
REPORT BY MOSES MATENGA
The decision has been described by residents', associations, political parties and analysts as a clear, but self-defeating and dangerous vote-buying gimmick by Zanu PF.
Analysts said the move was likely to result in an outbreak of diseases caused by lack of clean water and uncollected garbage.
Chombo on Monday ordered all urban and rural councils to, with immediate effect, scrap outstanding bills accumulated by residents and ratepayers since 2009, when dollarisation was introduced, to last month.
parties said the move was a recipe for disaster. Outgoing Harare mayor Muchadeyi Masunda said the consequences of Chombo's "ill-advised" decision were too "ghastly to contemplate".
"This has to be the most outrageous and unreasonable decision that anyone has ever made since this city was founded as far back as 1890. There is no legal basis upon which he made such a decision," he said.
Masunda said the directive would cripple service delivery and directly affect more than 9 500 municipal employees and their families in Harare alone. He said 32 schools, two hospitals, 14 polyclinics and 32 primary health care centres run by Harare City Council would be affected.
Masunda said Mugabe and Prime Minister Morgan Tsvangirai should act on the matter to avoid a major disaster.
"Running a metropolis like Harare is not for politicians. Politicians must stay out of it and this doesn't involve any '–isms' — whether Zanuism or MDCism. They will be unmitigated chaos if his (Chombo's) decision is allowed to stand," he added.
"We will become another Detroit (a city in the United States which has filed for bankruptcy after its revenue base collapsed, leaving it with an $18 billion shortfall). This is a politically-induced bankruptcy all in the name of elections. God forbid. There are many politicians that are positively dangerous not only to themselves, but to the entire nation and Chombo falls in that category."
Local Government deputy minister Sesel Zvidzai said the move by Chombo was a "ticking time bomb" that people should not celebrate.
"It's a bit too late and obviously meant to fool the people of Zimbabwe. It's an indication of Chombo's desire to bring back the cholera outbreak and affect lives like what he presided over as minister in 2008," Zvidzai said.
"He wants to use this period knowing very well that it's a period where councils are dissolved. He wants to appear as if he is concerned with the people's welfare.
"It's not even a campaign gimmick, it's taking the people for granted and for being stupid."
MDC-T secretary for local government Blessing Chebundo said the timing of the move was aimed at gaining cheap political mileage by Chombo and Zanu PF, but was destined to fail.
"If you look at the timing, you can only agree with me that they are targeting the elections, it's vote-buying at play, but the people of Zimbabwe are not that foolish to believe in what he is saying," Chebundo said.
MDC deputy spokesperson Kurauone Chihwai said the move was a "tired and desperate" strategy by Zanu PF to lure voters. "That is cheap politicking and our understanding is he did not consult the rural and urban authorities. That issue of unilateral declarations is a cancer that should be dealt with. It's unfortunate vote-buying has gone to such extent," Chihwai said.
Combined Harare Residents' Association chairperson Simbarashe Moyo said residents would not buy into Chombo's "unilateral decision", which was meant to cripple local authorities.
"He is just politicking. This is a populist statement that is not worth celebrating," Moyo said.
Council revenue halls in Harare were open with residents making payments in clear defiance of Chombo's directive.
Harare town clerk Tendai Mahachi said he was not in a position to comment as he was out of the country, but a senior official who declined to be named said Chombo's directive should not be taken seriously.
In a bid to encourage ratepayers to clear their arrears, several local authorities have been offering discounts ranging from 30% to 50%.
He said the move was in line with Zanu PF's pro-poor policies as championed by President Robert Mugabe. Most urban centres are known MDC-T strongholds.
Harare City Council is understood to be owed in excess of $400 million by government, residents and the commercial sector for rates, water, refuse collection and other services. Mutare is owed $20 million, Kwekwe $9,5 million while Bulawayo is owed close to $100 million.
In separate interviews yesterday, residents, residents'associations and political