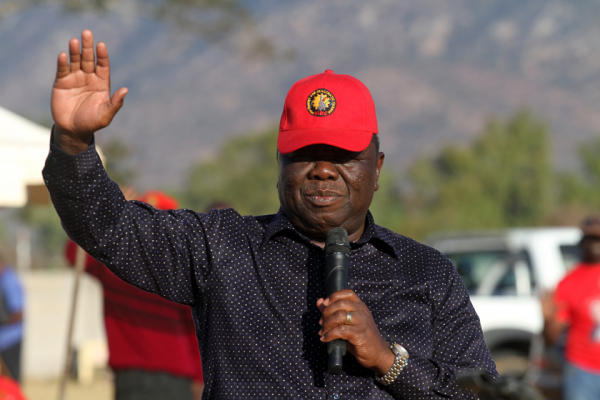 GOKWE, CHITEKETE — Zanu PF leader President Robert Mugabe, who turns 90 in February next year, wants to go and rest, but has been forced to seek re-election owing to the dangerous factional fights within his party, MDC-T leader Prime Minister Morgan Tsvangirai has said.
Report by Blessed Mhlanga
Tsvangirai, who was addressing thousands of MDC-T party supporters who had braved the chilly weather to attend a rally which ran deep into the evening at Chitekete Business Centre on Tuesday, said warring factions within Zanu PF were holding Mugabe hostage.
"I spoke to him (Mugabe) and asked why he was still holding on at such an advanced age and after 33 years of disastrous rule. He was clear.
"He wanted to let go, but feared that if he did so his party would collapse. Mugabe said his problem was almost similar with mine. If he leaves now, those factions will tear each other apart," Tsvangirai said.
Zanu PF faces a stern test with its hazy succession policy, with reports that Vice-President Joice Mujuru and Defence minister and party secretary for legal affairs Emmerson Mnangagwa were leading separate factions battling to succeed the ageing Mugabe.
Mujuru and Mnangagwa have publicly denied any links to factions within Zanu PF, instead pledging loyalty to Mugabe.
Tsvangirai said Mugabe was aware that Mujuru and Mnangagwa were fighting over his post in Zanu PF.
"He knows that there are sharks in his party who are lurking underneath for an opportunity to take over the party. He told me that the Mujuru and Mnangagwa factions would destroy his party. So, with your vote, we will send him home to deal with his two babies," Tsvangirai quipped.
He further said the inclusive government that was formed courtesy of Sadc intervention was a way of giving the veteran Zanu PF leader a dignified exit so that he could save face after a disastrous era of economic decline between 2007 and 2009.
"Sadc told Mugabe that you lost elections, but since you are an elder we have put together a dignified exit plan through the Global Political Agreement. Go and work with this child (Tsvangirai) in the inclusive government to restore the dignity of your people before you rest, they said," Tsvangirai said to cheers. As Tsvangirai tore deep into Zanu PF strongholds of Gokwe, Gumunyu and Nembudziya, villagers, some clad in Zanu PF regalia, waved at his six-vehicle motorcade shouting the MDC-T party slogans and his totem.