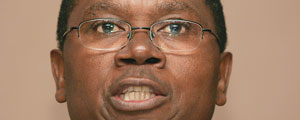 MDC-T Makoni Central candidate Patrick Sagandira (PS) has vowed to continue fighting for the seat even if party leader Prime Minister Morgan Tsvangirai were to trade the constituency to Mavambo/Kusile/Dawn (MKD) leader Simba Makoni as part of their coalition deal.
According to Sagandira, he would only stand down if the MDC-T replaced him with a candidate like former journalist Grace Kwinjeh.
The following are excerpts of an interview between NewsDay Parliamentary Reporter Veneranda Langa (ND) and Sagandira on the controversy surrounding the Makoni Central seat.
ND: Who is Patrick Sagandira and how much have you contributed to the MDC-T party? PS: I am a businessman operating hardware shops in Rusape and I am well known in the area. I am a resident of Makoni Central constituency, unlike the other candidates interested in the constituency who stay in Harare or overseas.
After the former MP John Nyamande, who was elected during the 2008 harmonised elections died, I acted as MP for the area since no by-elections were held to replace him.
Since then, I have been spearheading different projects even though I was not formally an MP. I would even do several rallies for the MDC-T and it helped to publicise the party.
ND: How did you get the right to represent your party as a House of Assembly candidate for Makoni Central? PS: I won during the MDC-T primary elections. But after winning, I was arrested on allegations that I had caused political violence. Then I was contesting against Kwinjeh. While I was in prison, I heard a Coalition for change had been formed between MDC-T, MKD and Zanu Ndonga, but when I was released my party did not officially communicate the issue to me and so I continued campaigning as an MDC-T candidate.
Tsvangirai also held a rally at Sakubva Stadium in Mutare and he actually greeted me and asked how my campaign was going on. He never said anything to me about campaigning for the MKD's Simba Makoni. I actually hear it from the streets that Makoni was fielded by the MDC-T due to the coalition. Some people are even telling lies saying that the president had endorsed Makoni.
ND: Did you actually steal the primary elections from Kwinjeh or engage in rigging? PS: I did not steal the elections from her. What happened was that, in the first round of the elections, she was leading with 184 votes while I had 157, but during the second round, I polled 120 votes while she polled only 50. I did not rig anything. She was only popular in the rural areas, in ward 18, where she comes from, but I was popular in urban wards. Even if you were to sum up the total figures, you will see that I won.
ND: Back to the issue of Makoni, how is the coalition going to work if the MDC-T is to support two candidates? PS: It is not possible that Makoni can stand and be supported by MDC-T because I have already filed my papers with Zec (Zimbabwe Electoral Commission) and I am the successful candidate for the seat. I have a lot of following from the people, especially since I have been acting in the capacity of MP since 2009.
ND: What kind of projects did you carry out? PS: There is a programme I am spearheading for the Counselling Services Unit to assist victims of political violence in the area. I also have been holding rallies on behalf of the party for the past five years and the party has grown. Basically, I was running the constituency.
ND: So, if your party endorses Makoni, what are you going to do? PS: Anything outside of what I have said is wishful thinking. I will not accept anything like that because I will be a sellout to the people of the constituency. I have faith that I will win the elections even if Makoni were to continue campaigning. It's a complete betrayal for me to say just a week before elections that I want to give Makoni this seat — it is not possible. I have spent more than $200 000 in campaigns for this seat. It would be unconstitutional for the MDC-T to impose a candidate from another political party. I do not think Tsvangirai would do that. If he puts someone else, then that is dictatorship.
ND: What then do you suggest is the right thing to do to solve the problem where two candidates are campaigning for MDC-T votes? PS: We believe in democracy and not imposition of candidates, especially imposing someone who is not a member of the MDC-T. For instance, the Chipinge constituency issue is clear because Zanu Ndonga candidate Reketayi Semwayo was fielded on an MDC-T ticket. Makoni cannot expect MDC-T supporters to vote for him when he is standing on an MKD ticket. He has no supporters and he actually wants to gain votes using MDC-T supporters and our structures.
I do not think we have anything to gain from him considering that he got 0,9% votes in Manicaland province in 2008. We have 26 constituencies in Manicaland and his support is insignificant. I take him as a Zanu PF project to split the MDC-T votes in Makoni Central so that it goes in favour of Zanu PF candidate Patrick Chinamasa.
Whoever came up with the idea of calling Makoni to beef up support for MDC-T is ill-advised because he has no people and the 8% of votes he got in the 2008 presidential election came from Zapu.
ND: You have not really answered the question on what do you suggest should happen since the two of you want MDC-T votes? PS: As long as Makoni campaigns as an MKD candidate, that is not a problem, but if he is announced as an MDC-T candidate, there will be total confusion among our voters because people will end up voting for MKD and that is unconstitutional.
The reason I wanted to contest this seat is that we have always had people coming from the United Kingdom and Belgium who do not know what is happening in Makoni Central and I am a better candidate as a resident of the constituency.
If the MDC-T were to impose Kwinjeh, I would understand and gracefully step down because she is a senior member of the party who was instrumental in its formation. But I will never step down for an MKD candidate. Makoni was not there when the MDC-T was formed. If Makoni were to win the seat, does it mean that MDC-T supporters in Makoni Central then become MKD? We have to remain with the MDC-T.
ND: If you win the elections, what plans do you have for Makoni Central constituency? PS: The state of roads is bad, especially in high-density suburbs. They were last repaired during the Ian Smith-led government and I want to rehabilitate them.
I have a plan to bring water to Rusape because there is a big dam which is benefiting Chiredzi. There is a high unemployment rate and we want industries in Rusape.