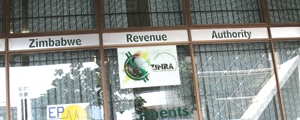 GOVERNMENT has marginally missed revenue targets for the first six months of the year due to massive company closures triggered by the underperformance of the economy, statistics from the tax authority have shown.
REPORT BY BERNARD MPOFU
Gross collections for the second quarter, according to the Zimbabwe Revenue Authority (ZIMRA), stood at $873,6 million, while net collections were $836,9 million, against a target of $886,2 million. Net collections for the first six months of the year, according to the official figures, stood at $1,66 billion against a target of $1,67 billion.
"The first half of 2013 has seen the Zimbabwean economy being characterised by liquidity constrains, power shortages, retrenchements, scaling down of operations and company closures, among many challenges," said ZIMRA chairman Sternford Moyo.
"These economic setbacks have consequently led to the shrinkage of the revenue base, resulting in the revenue collection agency's marginal failure to meet set targets for the second quarter."
Moyo said while the 2013 first quarter target was surpassed by 5%, the second quarterly target was missed by 6%, resulting in the first half target being slightly missed by 1%.
Value added tax contributed the bulk of the revenue at 31% of total collections during the period under review, followed by income tax on individuals (21%) and excise duty at 14%.
Company tax collections had a 10% variance on the $205,8 million target due to subdued performance of the local manufacturing sector.
"The revenue head's performance was negatively affected by working capital to finance operations and replacement of obsolete plant and equipment. Local industry is also finding it difficult to borrow in order to recapitalise due to high interest rates by local financial institutions," Moyo said.
Finance minister Tendai Biti attributed the underperformance of the economy to political uncertainty surrounding the forthcoming elections. Zimbabwe is expected to go for elections on July 31 at a time when government had been operating on cash budget against a backdrop of an unsustainable public sector wage bill.
Biti said Zimbabwe's economy lost up to 3% of its size due during the first quarter of the year due to subdued performance of key economic sectors.
The local manufacturing sector, whose capacity utilisation plunged to 44% last year from 57% recorded in 2011, is struggling to remain afloat due to biting liquidity constraints and stiff competition.