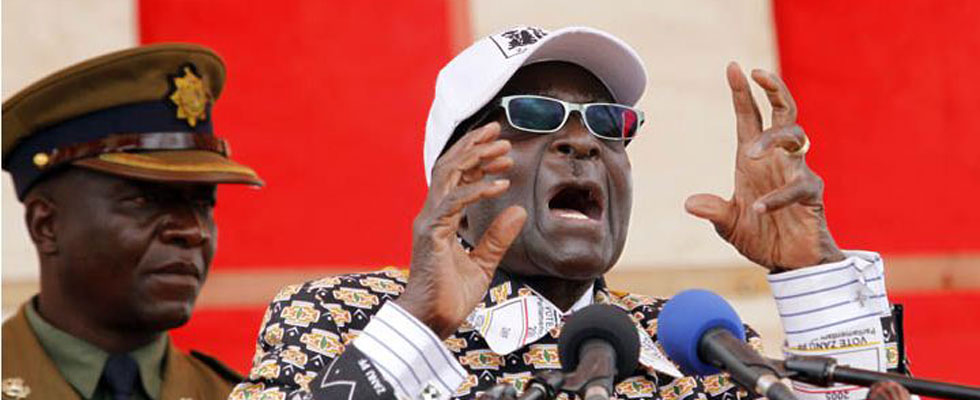 ON Tuesday, President Robert Mugabe was in Chitungwiza where he addressed a rally attended by thousands of his supporters at Chibuku Stadium.
NewsDay Editorial
His message there was clear — peace begins with me, peace begins with you, peace begins with all of us. As the nation surges towards a watershed election in which stakes are unquestionably high, it was indeed a timely message with maturity, coming from Zanu PF's most senior official.
It is a message the President has been preaching at virtually all his gatherings in a bid to ensure political tolerance and a violence-free poll, different from the mayhem witnessed in 2008 when brother turned against brother and butchered each other for supporting rival parties.
However, a mere 24 hours after Mugabe's Chitungwiza rally, an ugly scenario erupted. Seven MDC-T officials, believing in the peace message the President had just preached, were brutally attacked, allegedly for putting up campaign posters and distributing pamphlets at a housing settlement established by Zanu PF aspiring parliamentary candidate, Christopher Chigumba. Some sustained serious injuries which saw them admitted at a local hospital, but most of the perpetrators reportedly went away scot-free.
Is Mugabe speaking white, but acting black, indicating left and turning right, preaching peace, but acting war? Or has he lost control of Zanu PF and his grassroots supporters no longer take him seriously — a sign that may signal Mugabe, turning 90 next February, is now a spent force rumbling what no longer resonates with the thinking of his followers?
Violence in any form ahead of elections is intolerable and both the President and Prime Minister Morgan Tsvangirai have been making passionate calls to their supporters to be tolerant for the country to hold peaceful polls.
Over the weekend, Tsvangirai warned his youth leaders Solomon Madzore and Promise Mkwananzi against making reckless statements which may trigger violence.
This was after Madzore had told a rally in Marondera early this month that as youths they were prepared to shed their blood for the former trade unionist, a statement which Mkwananzi went on to support.
Grandstanding and preaching mixed messages should not be condoned in any circumstances. It is the hope of many that local, regional and international election observers currently in the country will keep a close eye on these developments and give correct reports regarding violence.
The 2008 presidential election runoff was marred by violence which saw Tsvangirai pulling out, culminating in an inclusive government — definitely not the best deal for Zimbabweans who deserve to be led by a single party that wins an election.
With two weeks to go before the harmonised elections, Zimbabweans only hope and deserve a peaceful poll and calls by leaders should be respected and observed.