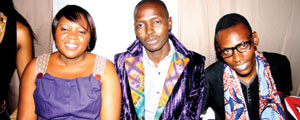 TWO of the country's fashion designers, Sidumiso Tshuma of Shadow by Sidumiso and Sheenah Moyo of BlinQ, will be among the 21 designers from across the world that will participate in this year's African Fashion Week Toronto, running from August 15 to 18 in Canada.
Tinashe Sibanda
The two designers, who are showcasing their designs on August 18, are expected to feature with other big names such as the French clothing label Mike Sylla and Botswana's Black Trash Clothing, among others.
According to the designers' agent, Hunnar Management Agency (HMA): "The two are part of the three representatives from Southern Africa that will be showcasing at the event that will be held at the Japanese-Canadian Cultural Centre."
Tshuma established Shadow By Sidumiso clothing label in 2004 and the name Shadow came from Tshuma's schooldays when he used to be called such because of his dark complexion.
Instead of mopping around and losing his self-esteem, he took the name as his brand and demonstrated how one can embrace their uniqueness and sell it to the rest of the world.
"Shadow by Sidumiso, which has become a household name in the fashion circles of Zimbabwe, has gone as far as being appreciated by Miss Earth Zimbabwe 2012 at the international finals, worn by Zahara, ZiFm's Loch Nation, Miss Zimbabwe 2010 Samantha Tshuma, Global Citizen/Public Personality Gilmore Moyo and 5fm & GoodHope FM playlisted DJ Sonny Jermain, amongst many others."
It has featured at many different platforms such as the Jewel magazine designer Pop Up Party, Vic Falls Carnival 2012, ECCT Fashion Show 2012, The CoF Fashion Event 2012 and many more plus the brand has been growing from strength to strength and will continue representing Bulawayo and Zimbabwe at all levels.
"Moyo's BlinQ is a button work accessory label established in 2012 and the jewelry designer label appreciates the little, yet unique things that we take for granted as society, and brings life to them.
"Her works have been worn by ZiFm's Tinopona Katsande, Bulawayo's Sweetheart/Public Personality, Mbo Mahocs, DJ Eltonic and is breaking through all barriers. Sheenah Moyo has had her label being featured at the Hifa 2013, Pop Up Designer Party by Jewel Magazine and also ECCT Fashion Show in Harare 2012," HMA said.
"Because of their uniqueness and use of outstanding materials in creating products that are eye-catching, both Shadow by Sidumiso and Blinq Jewelry have been invited to showcase at the African Fashion Week in Toronto, Canada, this year and we are excited to be informing Zimbabwe."