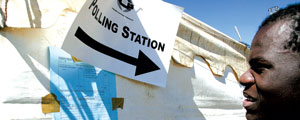 MISSION leader of the Common Market for Eastern and Southern Africa (Comesa) Ambassador election observer team Bethuel Kiplagat on Friday urged Zimbabweans to be patient and remain in queues on July 31 to decide their leader.
REPORT BY VENERANDA LANGA
Kiplagat made the remarks while addressing journalists in Harare during the official launch of a 27-member team of Comesa election observers.
He said Zimbabweans should also ensure the elections were peaceful and that anyone with grievances on election results should take the legal route instead of taking the law into their own hands.
"You have a responsibility to get out early in the morning, be patient in queues and remain there until you have decided who is to serve you in the next five years," said Kiplagat.
"Let us make sure that these elections are peaceful and indications are that stakeholders are committed to ensuring they will be peaceful and once results are announced, accept the results. But if there are any grievances, go to arbitration courts and let us not take the law into our own hands," he said.
Delegates who attended the launch kept using Kenya as an example of polls that had been violent and disputed prompting Kenyan Ambassador Josephine Awuor, who was present at the meeting, to raise a point of order on the issue.
She said Kenya indeed had a difficult time during their elections, but it was unfair for people to continuously use it as an example of violent elections because many African countries were affected by that.
"In Kenya we went through a difficult time, but we had mechanisms to deal with the elections. Kenya is always being highlighted as a country with violent elections yet a lot of African countries have faced violent elections and we want to be fair and say it is happening in many African countries and desist from always highlighting violence as if it has to do with elections in Kenya," she said.
Comesa secretary-general Sindiso Ngwenya said the Comesa delegation would be in the country until after the announcement of results.
"There is a difference between monitoring and observing and we are here to observe," Ngwenya said.