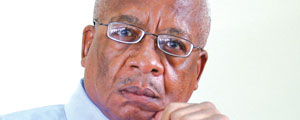 Next week, Zimbabweans are due to exercise democracy's most basic right — voting. Report by Conway Tutani
Said Confederation of Zimbabwe Industries president Charles Msipa this week: "The country requires a clear, stable and consistent policy framework and an environment that addresses our economic opportunities and challenges. Whether that policy environment is delivered by a coalition or single-party government is for the electorate to decide."
Such democratic ethos just about summarises the issues involved in next week's general election and what needs to be done.
But, going by the special vote fiasco last week — where less than half of eligible members of the uniformed forces and civil servants managed to do so — it's a big ask to expect the Zimbabwe Electoral Commission to ensure over six million people can vote in a single day. Sadc Organ on Politics and Security chairperson Tanzanian President Jakaya Kikwete has expressed fears about a "tough" election, confirming what the realistic but now silenced Sadc facilitation team spokesperson Lindiwe Zulu has maintained all along — that the country is ill-prepared for elections both in terms of conduciveness and logistics.
Arising from that is that there is need to check the drift of the Judiciary into a partisan extension of the Executive (Presidency). All the crucial constitutional judgments have gone in favour of the regime. Against all common sense, the Constitutional Court (Concourt) refused to postpone the election date by a mere two weeks. The Concourt could find itself in a bind now that it is being asked to permit those members of the uniformed forces and other civil servants who failed to cast ballots as special voters a fortnight ago to do so with the rest of the electorate on July 31. The projected scenario by Sadc and opposition parties informing the need for postponement of the harmonised elections is exactly similar to the scenario which led to logistical failures of the special vote.
What's good for the goose is good for the gander. We don't want a "dictatorship of judges". So, people must vote for institutional change come July 31.
This election has also brought the best and worst in humanity. We have seen the notable and courageous stance among those rural people who have braved threats to attend opposition rallies in remote places like Kotwa and Rushinga, endangering life and limb. Then there is former Finance minister Simba Makoni who has sacrificed much after decamping from Zanu PF. A rising star, he was not deterred by the fact that "it's cold out there" to run back to Zanu PF with the tail between his legs like Jonathan Moyo did. Moyo said going it alone was "career-threatening to those concerned".
Well, Zimbabwe has suffered most from political careerists like him. The less we have opportunists, the sooner this nation will heal and prosper.
Then there is the issue of missed opportunities and technical blunders. What is politics without deal-making? If people give their memories a nudge, 2008 would have been the year to end the toxic political culture in this country, but this went to waste.
Come 2013, it's still about removing a noxious political culture and replacing it with a new system. There is need to cross the boundaries of tribe, class and age, in a coalition of every kind of Zimbabwean — from Manicaland to Matabeleland; from the poor, working class to business executives; from the rural to the urban populace. There must be a fusion of a little bit of all of us — not these calls for ideological purity. Perfectionism is an illusion as well as an obstacle and — crucially — makes it hard for you to work with others, as observed by my colleague Thembe Khumalo elsewhere in this paper.
Yes, every party has nasty people, but the reasonable centre must hold. This election represents a choice between accommodation and nativism. There is need to make bitter compromises for change so as to spark an enormous reservoir for goodwill. Those who find this distasteful should try their vocation elsewhere because they are not made for politics.
In making electoral decisions, people must ask: Is the country better off than it was pre-February 2009 when the inclusive government was formed? Yes, those hopes have been dimmed by the continuing hard times and four years of bitter political struggle as Zanu PF continued and continues to throw hurdles to make the opposition appear stupid and incompetent.
But for most of the country, the answer is yes. The economy was in shambles, to say the least, and inflation at last count was running at 231 million percent when calculation was abandoned altogether. The economy would by now be in far better shape had the hardliners not had their way most of the time during the inclusive government. And it would have been a much better situation had they been remitting diamond and other revenue to Treasury, not running a parallel government, as seen in their doling out of goodies at rallies.
Granted that the opposition now appears less as a saviour as some have of them, like human beings, proved to be incompetent and corrupt — which must be frankly and open admitted because we need to move from the leadership cult as promoted by Zanu PF where leaders virtually do no wrong and have been elevated to living political sainthood. Was independence meant to replace colonialists with corrupt dictators?
It is this blatant hypocrisy which conveniently sees the hands of imperialists everywhere that must be rejected — and decisively so. Icho!