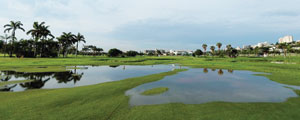 WE were at the seaside at last.
Travel with Dusty Miller
The direct non-stop South African Express flight from Harare to Durban was over-booked, so we travelled via SAA and OR Tambo International Airport, Jo'burg and our luggage arrived with us at King Shaka International Airport and intact.
King Shaka International Airport (KSIA) is also known as La Mercy Airport as it is situated at La Mercy, Kwa Zulu-Natal, about 35km north of Durban. It's one of the most user-friendly airports I've flown in or out of and last year was named by Skytrax as best airport in the world handling less than five million passengers a year.
I keep hearing it was designed by a Zimbabwean, but my research identified architects as Osmond Lange a partnership with Jo'burg headquarters. Maybe a Zimbo led the planning team?
First thing I noticed on this trip was that the P/A system was as clear as a mountain stream, you could hear every syllable. On a previous flight, soon after it opened in advance of the World Cup in 2010, the tannoy was crackly and distorted.
Like me, an American traveller, also straining his ears, was convinced we'd been welcomed to "Kinshasa International Airport" and he more or less panicked, saying: "I don't wanna be in The Congo; why the hell are we in The Congo?"
Personally I was amazed that an average American traveller knew Kinshasa was in the so-called Democratic Republic of the Congo.
Incidentally the old Durban airport will be turned into an additional seaport, for cruise liners, with a massive channel cut through from the exiting tarmac to the Indian Ocean.
KSIA was conceptualised in the 70s; construction began in 1973, but was halted in 1982 due to an economic slow-down.
Soon after the turn of the century, interest was rekindled as the old airport couldn't handle intercontinental flights with jumbo jets.
There were many delays due to litigation between contractors and environmental impact assessments, not least into the effect on a nearby roosting site for hundreds of thousands of European Barn Swallows and investigating whether flocks of swallows could cause potentially fatal bird-strikes?
Work resumed in August 2007; first commercial flight was logged on May 1, 2010
I saw several European Barn Swallows as we drove from KSIA to join journalists and travel agents from Zambia and Botswana at uShaka Marine World, a breath-taking ocean theme park between Durban's CBD and the harbour. Weather was . . . well, European, grim, grey and guti, although, perversely, northern Europe sweltered in a heat wave that day!
First night was at San Lameer (a development by Sanlam, not a little known saint!) on KZN's South Coast. It is described as the most sought-after golf estate and resort in RSA and the only one with direct access to two blue-flag beaches.
Mondazur Hotel in the centre of a 169 hectare nature conservancy is described as world-class, but I thought it was possibly lucky to retain a fourth star. Three-stars were probably too low a rating, but four were a bit high. A case for 3,5 stars?
That was based on booking in at dusk, thoroughly enjoying an la carte dinner, but wishing it were a buffet, so we could more quickly eat, bathe and sleep! Spending the night in a comfortable bed the size of a snooker table, getting awoken at 4:15am, RV-ing at 5 for an Ocean Safari, purportedly including whale spotting, at Shelly Bay — aborted as a 30 knot gale blew — returning to the hotel, starving, for a wonderful breakfast and checking out at 10 having managed to spot and photograph just a few bird species.
From there, we drove roughly an hour to the spectacular Oribi Gorge, through rich farmlands, producing mainly sugar cane, but also pineapples and bananas. Oribi Gorge is situated along a dramatic forest-cloaked ravine of the Mzimkulwana River, just west of Port Shepstone, which is 120km south of Durban.
Approximately 27km long, four km wide at its widest point and 400m deep, at the base, huge rocks are 1 000 million years old, while sheer cliffs, home to various raptors which soar high in the thermals quartering the ground for prey, are formed from sandstone deposited about 350 million years ago.
After the gorge, is a large surface mine producing cement. The well-engineered and mainly well maintained (we did see a couple of potholes) road through the gorge was built by Italian prisoners-of-war in the 1940s. In 1950, the whole area was declared a protected state forest.
Our itinerary said we'd spend two hours at the gorge, but we were there more than double that length of time, while braver, younger members of our party made up their minds to bungee-jump or not.
Having opted to leap out into space from the top of the cliffs, it was quite a time consuming performance, with only one person jumping about every 10 or 12 minutes.
Six or seven members of our mob jumped. One girl chickened out at the cliff's edge. I couldn't blame her. Then it took forever to get DVDs of their individual sheer lunacy. Candidly two hours was sufficient for this operation, watching jumpers from across Africa leaping out into space, some in sheer unadulterated terror, others as if it were a mere stroll in a civilised park.
I could watch jumpers and handlers and magnificent bird life amid lovely terrain for 120 or so minutes, afterwards the novelty rapidly wore off, especially as the day grew progressively colder and damper.
By dallying, we also missed a planned lunch at the Gorge Hotel and Spa, to which Trip Advisor awards five-stars. Instead, we continued to Leopard's Rock Coffee Shop and Lookout Restaurant (which earns 4,5 stars.) But their kitchen closed at 4pm!
Instead, I wolfed a surprisingly good Wimpy burger and chips, with that unique flavoured Wimpy coffee I recall from pre-teen days, in the Shelly Centre, one of several malls at which the women on our trip descended with determination to spend South African rand on clobber, as soon as possible!
More on Durban KZN, next week. dustym@zimind.co.zw