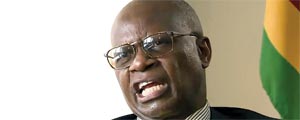 FINANCE minister Tendai Biti yesterday accused Justice and Legal Affairs minister Patrick Chinamasa of scuttling poll funding offers by refusing to co-operate with donors willing to fund the July 31 elections.
REPORT BY WONAI MASVINGISE
Biti said some foreign donors had offered to release $60 million, but Chinamasa had allegedly spurned the offer by refusing to meet the donors' demands. The minister declined to spell out the donors' demands.
"Donors want to give us money, but there are certain things that need to be done," Biti said.
"Chinamasa promised to write a letter on Monday, but up until now he has not done so. I cannot find him even on his mobile phone. I am so frustrated that this national responsibility is solely being left to the Ministry of Finance. Zanu PF wants to put me in a position that they can say Biti failed to fund the election.
We have just disbursed $20 million and we are now endeavouring to find the $60 million that is now outstanding."
Early this year, Cabinet tasked Biti (MDC-T) and Chinamasa (Zanu PF) to jointly source poll funding, but the efforts collapsed after Chinamasa and some elements within Zanu PF turned down offers by the United Nations Development Programme (UNDP), accusing the UN agency of pursuing a regime change agenda.
The fallout followed UNDP's insistence on a needs assessment audit.
Zanu PF hardliners have insisted that election funds should be sourced locally.
Although all efforts to get a comment from Chinamasa were fruitless amid reports that he had left for Addis Ababa, Ethiopia, to attend the Peace and Security Council today on Zimbabwe's election preparedness, sources indicated that the polls could be financed on credit.
The sources added the debt would reportedly be settled after polls like what happened during the national census where service providers were paid after the event.
Ballot papers would be printed at quasi-government entities Printflow and Fidelity Printers while CMED would mobilise vehicles for transportation of voting materials.
Preparations for the make-or-break harmonised polls have been fraught with challenges, especially money.