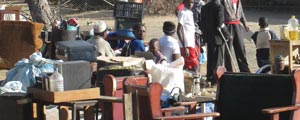 MUTORASHANGA — Businessman-cum-farmer Frederick Mtanda has evicted five families from his Winray Farm in Mutorashanga, Mashonaland West, for their "political activism".
Report by Own Correspondent
Mtanda, who is chairman of pharmaceutical giant Caps Holdings, yesterday confirmed the evictions.
"Yes, I have evicted these people for dragging my name into the mud.
There have been political accusations levelled against me by Zanu PF that I am harbouring MDC-T functionaries at my farm with the aim to facilitate (Local Government Ignatius) Chombo's loss in the impending elections," Mtanda said.
Ironically, he said, the same people sought protection from Chombo when he was on the verge of firing them for being "ringleaders" of the 2010 strike at the farm.
"These evictees are my former employees who were staying at my farm courtesy of minister Chombo who pleaded with me not to kick them out after I had fired them for leading a strike in 2010.
"Today, the same people are said to be MDC-T supporters and I am accused of plotting Chombo's electoral loss. These are machinations to mess me up and I have said enough is enough. Whether these people belong to Zanu PF or MDC-T, I don't want them on my farm because they are being used by politicians. I was told by senior Zanu PF officials at the highest level that there are some politicians out to fix me," Mtanda added.
Efforts to get comment from Chombo were fruitless yesterday. By yesterday, the families had spent two nights in the open and were still guarding their property which had been thrown outside the farm compound by farm security guards on Sunday.
The matter was reported at Mutorashanga Police Station, but provincial police spokesperson Inspector Clemence Mabgweazara professed ignorance over the eviction. The MDC-T confirmed that the evictees were its members, with aspiring Zvimba North MP Abigail Sauti visiting the families on Monday and pledging financial and material support.
Sauti said: "It's unfortunate Zanu PF is using all sorts of dirty tricks to intimidate our officials and supporters in the run-up to the elections."