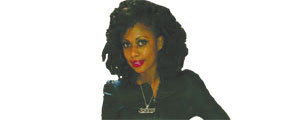 THE Big Brother Africa (BBA) reality show is getting more dramatic each day, recently being Nando's (Tanzania) shocking revelation that evicted Ghanaian housemate Selly infected him with a sexually transmitted infection (STI) after having unprotected sex in the house.
Melissa Mpofu
Nando made this revelation to fellow housemate Bimp last week claiming that he was now being treated for Chlamydia, an STI which was transmitted to him by Selly two weeks ago.
Nando is angry over the development and is now openly talking about it to other housemates in the competition.
"You know I hate that . . . (Selly)! I'm bleeping frustrated because that . . . gave me an STD. That's why my blood pressure was high yesterday," he told Bimp.
According to Nando, he wanted to use as a condom before having sex with Selly, but the Ghanaian said she wanted raw sex so he allegedly had unprotected sex with her two weeks ago, completely unaware he would contract any disease.
But interestingly Selly, who was evicted from the game on Sunday, claims she never had sex with Nando in the house.
"I really do not know what Nando is talking about. I never had sex with him, all we did was to make out. "I am waiting for Nando to leave the house and explain how and where he got the STI because I really don't know how that could have happened," said a disgruntled Selly during a telephone interview from South Africa.
There is, however, no medical evidence yet that Nando contracted the infection from Selly. Nando was so angry that he last week confronted Selly over the matter and told her straight in the face that she had infected him with an STI.
All Selly could do was to break down in tears and walk away when Nando demanded to know the last person she had sex with before their sexual intercourse in the Big Brother House.
A video of the intercourse between the two circulated on the Internet showing the two kissing passionately in bed with their hands all over each other. Several viewers, the world over, after watching the video of the "under bed sheet" intercourse between Selly and Nando, concluded the two were having sex.
Meanwhile, if at all Nando's STD story is true, it looks like it is worsening as he is having a hard time sleeping.
While talking to Big Brother on Tuesday afternoon during his Diary Session, Nando revealed that he was finding it hard to sleep as the sleeping pills he was given were keeping his brain awake. He then asked Biggie for stronger pills to see that his situation stabilises and gets back to normal.
Housemates' well-being is Big Brother's top priority and Nando's situation was been taken care of. He is receiving medication though it seems like he needs more.
It remains to be seen if Nando is telling the truth or if he is simply looking for votes.