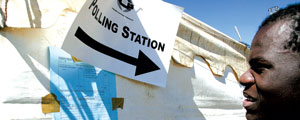 FOUR parliamentary aspirants are vying for Mutare South constituency, which was in the hands of Zanu PF MP Fred Kanzama. Kanzama lost the party primary elections to Nyasha Chikwinya, who is now set to fight it out with Ngaite Zimunya (Independent), Robert Saunyama (MDC-T) and Oliver Gwazaza (MDC).
Report by Obey Manayiti
NewsDay Mutare Reporter Obey Manayiti (ND) tracked down Zimunya (NZ), Saunyama (RS) and Chikwinya (NC) who gave their divergent views. Gwazaza was unavailable. Below are the excerpts: NGAITE ZIMUNYA ND: Can you briefly introduce yourself to the electorate
NZ: Ngaite Zimunya was born and bred in Mutare South. I did my college studies at Mutare Teachers College and did my degree privately. I have been a teacher from 1975 up to 1992.
ND: So what motivated you to vie for this seat?
NZ: Being a child who grew up in this area, I saw the shortcomings of my predecessors and I have seen that there is no development in Mutare South. Being a person who has been interacting with a lot of people at different levels, I was inspired to represent them. I have seen that the youths are just loitering yet they are the future of our country. Failure by my predecessors to address such issues motivated me to take up the challenge.
ND: Why did you choose to stand as an independent candidate?
NZ: I contested in the MDC-T primaries and without castigating the party itself, I felt the bone of contention is between myself and Robert Saunyama (MDC-T candidate) who manipulated and rigged the election. Given the situation, Mutare South members agreed that I should still stand even as an independent candidate. ND: What are you promising the electorate in the event that you win this seat?
NZ: I believe in team work, consultation and work according to the needs of the electorate. They will tell me what they want and we will work together. My core values are accountability, team work, equality considering gender and youth involvement.
ND: Can you please specify the projects which you will do for Mutare South?
NZ: We need an irrigation scheme here and to upgrade our clinics, roads and educational systems. On agriculture, I think people can have a small herd of cattle where they can sustain their livelihoods and also introduce poultry, piggery, among others, but it's the people who will tell me.
Educationally, I noted that no school has ever won the Secretary's Bell here, so I feel we need to motivate the teachers so that we improve on the pass rate. We also need a boarding school in this area.
Our clinics are substandard, that is what I will prioritise.
ND: From your assessment, what are your chances considering that most independent candidates always fail given the politics in Zimbabwe?
NZ: My chances are almost 100% because I am coming from the people. It's the electorate that asked me to stand on their behalf and their trust in me will see us through.
ROBERT SAUNYAMA
ND: Can you briefly introduce yourself?
RS: I live in Zimunya Township. I joined the party in 1999 and I held different positions starting as ward 6B chairman in 2005. From there, I was district security officer before being elected provincial security officer in 2006. I was a district chair and in 2008 I stood as MDC-T candidate for Mutare South, but lost to Fred Kanzama. ND: What motivated you then to seek a second chance this time around?
RS: It is the way I worked for the party. I worked at different levels with different people. I realised what the people expect from a genuine MP. I have worked with the people of Mutare South for quite a long time and I really know what needs to be done to improve their livelihoods.
ND: In the event that you are elected, what are you promising the people of Mutare South?
RS: I will create jobs and development. We have Mupudzi Dam which is lying idle and we will see what we can do to ensure locals realise maximum benefit from the dam through some projects like irrigation and fishery. We hope to start different projects meant for youths and women too. We want to upgrade local schools and also look at the prospects of having a boarding school. ND: In your view, what are your chances?
RS: The chances are very high. I am very positive besides disturbances that may arise from one person who chose to stand as an independent (Ngaite Zimunya), but I am very positive that this time I will be in Parliament.
ND: Are there specific challenges that you are facing in your campaigns? RS: Zanu PF people are removing our posters. They are also trying to frustrate our rallies by the way of conniving with certain people so that we are denied the chance of using our booked venues, particularly the Chiefs Hall.
There is also a lot of intimidation on our supporters, but these are minor incidents which will not sway our focus. We are going to win come July 31.
NYASHA CHIKWINYA
ND: Can you please briefly introduce yourself, madam?
NC: I was born and bred in Mutare. I attended several schools, but I was head girl at Mutambara High School. I participated in the armed struggle for six years. I am a mother and a grandmother too. I have been chairperson of the Zanu PF Harare province women's league for two terms and a central committee member for the past 23 years.
ND: What motivated you to stand as a candidate for your party in Mutare South?
NC: I have been an MP before for Harare North from 1995-2000, and when I looked back from where I grew up, I saw little change in terms of infrastructure development, health facilities, electrification programme and the general advancement of Manicaland has been lagging behind yet the province has enough resources to boost the entire country's economy.
I saw that there was a gap that needed to be filled so that the wealth in Manicaland is equitably shared in the Zimunya-Marange area as well as the entire province. There are a lot of untapped resources and I want to help the people of Manicaland to see maximum benefits from their resources.
ND: In the event that you win the seat, what are you promising the people of Mutare South?
NC: I want to improve the socio-economic status of the people of my constituency. The road network is in a very bad shape, water supply is next to zero, so we will sink more boreholes and maintain the existing ones.
Health delivery is a major concern too as well as the schools. We will devise ways in which we will deal with all these problems. We hope to electrify the clinics and the schools.
We have identified some areas with gold deposits and there still remains a chance for locals to participate in diamond mining. I will work around that area as well as introducing water harvesting and introduce skills training for women and youths.
ND: What are your chances considering that the former MP was from your party, but some accused him of not doing enough?
NC: I will try my level best to maintain the seat in the hands of Zanu PF. There were shortfalls I admit, (so) I will work hard as I can to promise the things I can deliver, to turn around the face of Mutare South.
ND: Your contestants have accused you of having an unfair advantage over them in terms of getting permission to hold rallies and the use of venues. What would you say?
NC: I am an aggressive person and those who complain are just failing to read politics. I get what I want and this is the game. I must win over them and if I give them more chances, then I will not win. In the next few weeks, I will be more aggressive.