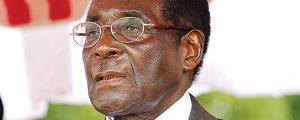 THE Zimbabwe Lawyers for Human Rights (ZLHR) says 37 "people are seeing red" after they were arrested or detained for allegedly pulling down President Robert Mugabe's campaign posters since the beginning of this month.
REPORT BY STAFF REPORTERS
ZLHR in a statement yesterday said 30 of them were charged with contravening a section of the Electoral Act.
"More than 30 Zimbabweans are seeing red after being arrested and charged for pulling down President Mugabe's Zanu PF party's political campaign posters in contravention of the country's obnoxious electoral laws," ZLHR said.
"With just a week before the country's harmonised elections scheduled for Wednesday 31 July 2013, about 37 Zimbabweans have been arrested and detained for allegedly contravening various sections of the Electoral Act, in particular sections 152 and 153."
The human rights body said court papers in its possession showed that the majority of the suspects were MDC-T and MDC supporters.
"Authorities in Mashonaland Central province appear to be enforcing the clampdown on dissent the most as the area recorded the highest number of Zimbabweans charged with committing electoral transgressions," ZLHR said.
"In Victoria Falls, Matabeleland North province, Nqobani Ngwenya and Charles Ncube, who are MDC-T party activists, were arrested on July 8 2013 for wearing MDC-T T-shirts. However, they were released without a formal charge being levelled against them."
In a related development, the MDC-T yesterday claimed eight of its youths were arrested in Chinhoyi over allegations of defacing Mugabe's campaign posters. The youths were picked up on Tuesday and were by last night still in police custody at Chinhoyi Central Police Station.
Their lawyer Kudzai Choga confirmed the arrests, saying they were likely to appear in court today.
The MDC-T also said police in Kadoma had arrested its parliamentary candidate for Muzvezve Patrick Musevenzo over allegations of putting up posters on his Zanu PF rival Peter Haritatos's property.
Musevenzo's lawyer Douglas Chikwangwani confirmed the incident, but said his client was released after police had recorded a warned-and-cautioned statement from him.
Mashonaland West provincial police spokesperson Inspector Clemence Mabgweazara referred all political matters to police spokesperson Chief Superintendent Paul Nyathi for comment.
But, strenuous efforts to get Nyathi were fruitless at the time of going to print.