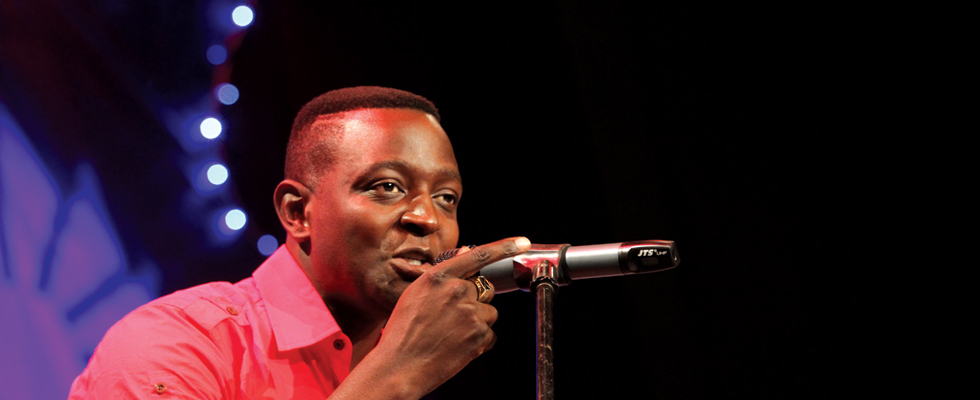 SULUMANI Chimbetu has hailed Franco Slomo (real name Francis Dhaka) as a progressive artist committed to the art.
By Silence Charumbira
He was speaking at the farewell gig held for Slomo at Jazz 105 on Tuesday evening.
The gig also served as Sulu's farewell as he was to leave for Zambia yesterday. From Zambia he is expected to fly to the United Kingdom. Sulu said he enjoyed memorable moments working with Franco Slomo, both professionally and personally.
"Franco is a great character. Many people thought he would not fit into the dendera system, but he gelled very well," said Sulu. "He would improvise at rehearsals and we had a really good combination." Sulu said although his departure may be sad, his move is always best for art.
"We all have to start somewhere and I am glad Franco has started his own. If he had not he would have remained a dream for both himself and his admirers and that is detrimental for art, particularly music," he said.
"Zimbabwe is still developing in terms of the music industry and yet we have great talent, so aspiring potentials and leaders should not be suppressed."
The dendera artiste said bad mouthing each other when artistes move on from different bands belonged to the bygones.
He said he would support Franco in every way he could professionally. The party seemed to have suffered from the biting colds as a relatively small crowd attended the show.
Jean Masters, who opened the show, failed to live up to expectations with her performance.
When Sulu came on stage it was as if a script was being followed with the rapport increasing.
Sulu is scheduled to be in Zambia until June 23 after which he flies to the United Kingdom where he will perform with Oliver Mtukudzi and Winky D.
Franco will travel to Zambia and the UK before he starts performing with his new outfit, Orchestra Ndozvese, made up of Jonas Kasamba, Obert Gomba and Noel Nyazanda who recently left Alick Macheso and other artists taken from other camps.