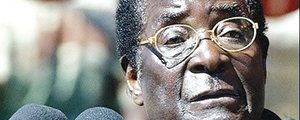 MASVINGO — President Robert Mugabe was sold a dummy by Masvingo companies when he launched the province's $3 million community share ownership trusts in February this year, as the firms are yet to remit money for the schemes.
Report by Tatenda Chitagu
Only Murowa Diamonds paid $500 000, Masvingo governor Titus Maluleke said on Friday.
Among the companies that are yet to pay are Tongaat Hullet, Bikita Minerals, Steelmakers and Rio Zim's Renco Mine.
Following the snub, Maluleke revealed that he was forced to invite Indigenisation minister Saviour Kasukuwere to Masvingo  to read the riot act to the companies.
"We are having difficulties with the companies here as they are yet to pay the money for the community share ownership trusts. We are appealing to you minister to play your part and enforce the payment," Maluleke said at a meeting with the companies at Masvingo Civic Centre.
True to form, Kasukuwere read the riot act, saying he was taking the companies head-on.
"That is fraud . . .You gave us the cheques and went and withdrew the money before it had been debited. Please pay up.  It is time these companies own up. They made the pledge. I will follow that up vigorously . . . Respect the President of this country who created this ministry.
"They are now stretching our patience. Some companies think that they will get away with it, yet this is the law of the country. "If they want to take us on, we will take them head-on. Defy us at your expense. There is going to be a fight. We are just starting and the fight will intensify," he added.