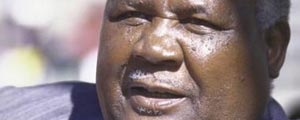 THE JOSHUA Nkomo National Foundation is planning to launch an annual music festival and football tournament as part of its efforts to keep the legacy of the late Vice- President Joshua Nkomo alive.
Bureau Chief
Responding to enquiries from NewsDay yesterday, the acting director-general of the foundation, Jabulani Hadebe, said the organisation would unveil its programme of events for this year at the Bulawayo Amphitheatre tomorrow.
"We want to revive the projects that the foundation is working on and put them in the limelight," he said. "For starters, you will remember that there used to be Umdala Wethu galas, but that has fizzled out.
"We want to introduce this year an Umdala Wethu music festival. We are planning to have this for the first time in the month of July this year.
"We are also planning to have an Umdala Wethu Football Charity Trophy and it is mostly likely to feature in its first edition Premier Soccer League teams Highlanders and Dynamos.
"We will have the annual golf classic, but the difference this year is that it will have a new sponsor.
"All this will be unveiled on Wednesday (tomorrow)."
Hadebe said the foundation wanted to take the history and legacy of Nkomo to schools and would be popularising the Nkomo Museum, which is the icon's house at Matsheumhlophe in Bulawayo.
"We have already started on this and now we get a number of children from schools in the city visiting the museum," he said.
"In fact, this is why for Wednesday's unveiling of our programmes we have invited a number of people from schools and colleges."
Over the years cynics have castigated some bodies formed to preserve the legacy of Nkomo, who died on July 1, 1999, for being dormant or in some instances merely seeking political mileage by associating with Father Zimbabwe described as a "larger- than-life character".
Some State-sponsored projects to honour Nkomo have taken too long to complete including the rehabilitation of Bulawayo Airport which has been renamed after the late nationalist and the setting up of a North Korean-made bronze statue.
Other projects like the opening of the Ekusileni Hospital in Bulawayo, which are being done under the auspices of a private board, have also taken long to complete.
A lecture in honour of Nkomo at the National University of Science and Technology was also cancelled last year under unclear circumstances.
Former Industry and Commerce minister Nkosana Moyo was supposed to deliver the lecture.