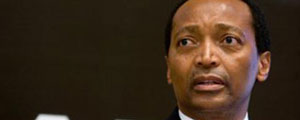 JOHANNESBURG — South Africa would benefit greatly if it succeeded in instilling new confidence in the global investment community, African Rainbow Minerals (ARM) executive chairperson Patrice Motsepe said on Tuesday.
Miningweekly
Answering questions after the JSE-listed ARM presented a 30% fall in headline earnings to R1,41-billion in the six months to December 31, Motsepe said the countries that had created the most jobs, lifted living standards highest, improved literacy most and provided the best health facilities were those that offered global investors the highest degree of confidence.
Elucidating in reply to Mining Weekly Online, Motsepe emphasised — also see accompanying video — the importance of corporates like ARM engaging in ongoing communication with the government.
In such discussions it was important for CEOs to be forthright in also raising the negative aspects of doing business in South Africa.
The government, he said, had no choice, but to partner with the private sector in order to benefit the people of South Africa.
Governments of developing countries needed jobs for their people and could only provide employment in partnership with the private sector.
He said the attention that other developing countries were affording potential investors was impressive.
He had recently gained first-hand experience of the the impressive attention that the governments of Papua New Guinea (PNG) and Chile gave to investors.
As a potential investor in PNG, he was impressed with the interface that had been laid on at top level and believed that the South African government would do well to give similar encouragement to prospective investors in this country. He had also been impressed in an interface with the Finance minister of Chile.
He said it would give great insight to top-level South African politicians to accompany ARM on its international road shows.
By doing so, they would see the exciting opportunity for South Africa and South African business to be able to fare well in an economic environment that instilled confidence.
Simultaneously, they would also see how investors turned off their support in the face of economic uncertainty and a fall off in confidence.
Motsepe expressed absolute confidence, however, that South Africa would do better in the medium-to-long term.
ARM's latest 30% earnings fall was partially offset by improved performances at Nkomati Nickel and ARM Coal.