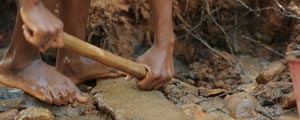 POLICE have cordoned off an area in Jambezi near Victoria Falls where discoveries of gold deposits were made recently, resulting in villagers and urbanites abandoning their chores to join a stampede for the precious mineral.
Report by Richard Muponde
The gold belt is reported to be located at Mulonga 17 in Jambezi where Mines and Mining Development minister Obert Mpofu hails from.
It is believed the belt goes through homesteads and a cemetery.
The gold was reportedly discovered by a visitor who had come for a funeral in the  area after he noticed that the soil which was being extracted from the grave site contained the precious metal.
According to residents, the visitor did not tell anyone that there was gold at the grave, but went back "Nicodemously" to dig for the precious metal.
He was, however, apprehended by the villagers who took him to the police where he then revealed that there were gold deposits, leading to the rush.
In an interview on Saturday,  Mpofu — who is also a Zanu PF politburo member — confirmed there was a gold rush in the area. He said the discovery of the precious mineral in his home area was a welcome development which would uplift the lives of the villagers.
"It is confirmed. I have received a report that gold has been discovered in Jambezi and we have dispatched a team of geologists to the area," said Mpofu.
"The chief (Chief Shana) is working closely with the officials. Everyone is excited and eagerly waiting for the results.  As I have said before that minerals and other resources should benefits locals, the discovered gold will augment coal mining which is already being done in the province."
Some residents of Victoria Falls told NewsDay the discovery of gold in the area was a fulfilment of Prophet Emmanuel Makandiwa's prophecy on discoveries of gold in Zimbabwe.
Makandiwa made the prophecy last month, igniting debate within political and Christian spheres.