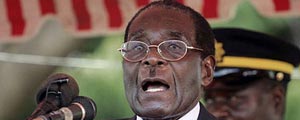 PRESIDENT Robert Mugabe yesterday said the forthcoming African Union (AU) summit should discuss the appointment of a President of Africa to foster unity among Africans and ensure that member states adhere to the founding principles of the continental body.
Report by Everson Mushava
Mugabe was addressing journalists at State House after a two-hour meeting with President Thomas Boni Yayi of the Benin Republic, who is also the outgoing AU chairman, in Harare. Yayi said he was in Zimbabwe to discuss the challenges Africa was facing as a continent and to get advice on ways to end conflict, in countries like the Democratic Republic of Congo, Mali and Central African Republic, among others.
The proposal to set up a United States of Africa was first made by the slain Libyan leader Muammar Gaddafi in 1999 as a way of ending the continent's conflicts, but it failed to secure enough support from his African counterparts with some suspecting Gaddafi wanted to rule Africa. But Mugabe yesterday emphasised Africa should have one president who would help fight divisions and move Africa to a continental power from the regional shell he claimed it was today.
"Yes, we need a President for Africa," Mugabe said. "That is what we are going to discuss at the AU summit. Africa is not a united continent. We are not at the stage our founding fathers wanted us to be when the organ was formed."
Mugabe said the AU had failed to integrate Africans, with some seen in the context of Anglophones and others Francophones. Mugabe said he was pleased that even though Zimbabweans had political differences, they had realised they were guided by the same destiny and hoped the forthcoming elections would be peaceful.
Yayi, who yesterday defended the move to request Nato forces to end the conflict in Mali and stop the Islamic rebels from seizing the Malian capital Bamako, said he had fruitful discussions with Mugabe.
"For Mali, we had to invite Nato because the situation was critical. It was an issue of religious intolerance and a matter of terrorism," he said.
Yayi left Harare yesterday.