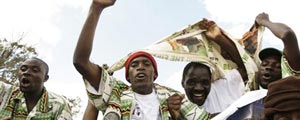 THE presence of expelled Zanu PF's Bulawayo youth chairman Butholezwe Gatsi and 13 members of his former executive at the party's just-ended national conference in Gweru has torched a fresh storm.
Report by Blondie Ndebele Own Correspondent
Some Zanu PF officials are questioning how Gatsi and his group sneaked into the conference when their names were not on the provincial guests' list.
Gatsi was expelled as Zanu PF youth chairperson in August over allegations of leaking confidential information to politburo member and national party commissar Webster Shamu.
The politburo endorsed his sacking in October amid ugly scenes of violence at the party's Davies Hall city headquarters, leading to the dissolution of his entire executive committee.
The party then elected an interim executive led by Mabutho Moyo to represent the province at the conference.
Gatsi and his 13-member team surprised all and sundry after they pitched up at the Gweru conference amid allegations they had forged Zanu PF national secretary for administration Didymus Mutasa's signature to gain entry to the venue.
However, Gatsi yesterday denied the allegations, saying they had been invited by Mutasa in their individual capacity.
"Mutasa signed the invitation letter and I was invited as the local guest, not as a member of Zanu PF," he said.
"I was then accredited by the party's security officers and I was there until the conference ended."
Mutasa confirmed that he had invited Gatsi and defended the move.
"He did not forge my signature. I invited him," he said. "He wanted to attend the conference and I did not see any reason not to allow him to."
Sources said the Zanu PF Bulawayo leadership was now mooting expelling Gatsi from the party, arguing his continued participation in Zanu PF activities would continue to fuel factionalism.