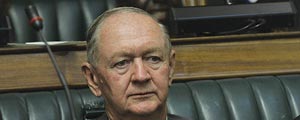 ZIMBABWE is not likely to go to the polls next year, but in 2015 as parties in the coalition government still need to align the country's laws with the new constitution which might take two years, a political analyst Ibbo Mandaza has said.
REPORT BY KHANYILE MLOTSHWA STAFF REPORTER
Mandaza made the remarks last Thursday while addressing a Bulawayo Agenda-organised symposium at the Small City Hall. Mandaza said although the country needed elections because "the GNU has failed" it was not likely the polls would be held next year.
"It is clear that for the voter, it is difficult to decide who to vote for between Zanu PF and the MDCs," he said. "A few months ago, I argued that the constitution was a done deal, done and dusted a long time ago. There will be no need for elections (next year) as neither the MDCs nor Zanu PF can afford one (election). They will be both comfortable with a GNU 2," Mandaza said.
"There will be no elections in 2013. What the MPs are not telling you is that there will be need to synchronise the old laws with the new constitution. In Kenya it took two years. It will take two years here in Zimbabwe as well. The earliest elections will be in 2015 and by that time all the old ones (leaders) will not be there."
Mandaza described as false claims that the current Parliament's term ends in June 2013, adding the cycle of elections was disrupted by the Global Political Agreement.
"According to the GPA, elections should have been in 2010 and, therefore, the next election in 2015, thereafter," he said. MDC's deputy-director of strategy and implementation Joshua Mhambi concurred.
"If we wanted to be faithful to the GPA, it is true that elections are quite far. If we wanted to tell the truth, in 2013 we might not have elections. Even if you look at it, the two bulls (MDC-T and Zanu PF) are not on the ground campaigning".
However, MDC-T policy director and Bulawayo South MP Eddie Cross said Zanu PF was likely to continue pushing for early polls to avoid electoral reforms.
"It is easy for people like Mandaza sitting on the armchair to criticise," he said. "We have no deal with Zanu PF (on elections). The GPA and the constitution mean a death wish for Zanu PF. They (Zanu PF) want the elections now because they are afraid of the GPA reforms".