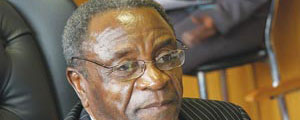 ZIFA president Cuthbert Dube submitted reports on the Asiagate match-fixing to Fifa president Sepp Blatter when he attended a Fifa 2013 Confederations Cup organising committee in Brazil last week.
SPORTS CORRESPONDENT
Addressing a news conference at the unveiling of the Warriors' technical structure in Harare yesterday, Dube said he had submitted reports on the Asiagate scandal to the president of the world soccer governing body whom he said would endorse the bans once Zifa exhausted all the channels in domestic football. Dube said Ignatius Pamire, through Panad, accuses Zifa of violating their own statutes and those of Fifa and has leapt to the defence of players who were banned following the recommendations by the Independent Disciplinary Committee led by retired Supreme Court judge Justice Ahmed Ebrahim.
Dube warned players not to associate themselves with the organisation and anyone who is against the cleaning up football.
"We should be on guard against the last remnants of match- fixing and illegal betting.
"The last bastion of match-fixing and illegal betting is still alive and we urge the new look Warriors to fend off the corrupt vampires who will spare no effort in trying to infiltrate our new look Warriors. Zifa would like to declare a war in perpetuity against all forces that are part of the evil axis bent on perpetuating the vice of match fixing and illegal betting. We have on good authority a list of the actors involved in the final line of defence of the Asiagate.
"A few days ago, some non descript non-governmental organisation sprang a surprise when they anointed themselves the voice of the Asiagate scandal perpetrators. A non-governmental organisation that dreams of running football in Zimbabwe should try their luck in football robotics and some super science sport. Anyone who falls prey to the antics of such organisations should do so at his own peril. We also urge the Footballers Union of Zimbabwe not to overstep their sphere of influence and mandate," said Dube. Dube surprised at criticisms
DUBE said he was surprised that he was being criticised in his own country for cleaning up football, but was being commended by foreigners. "I was asked to stand up and when I did I received a standing ovation. We were highly commended, but I am surprised you come back home and you are criticised for doing the right thing," said Dube in reference to Panad chairman Ignatius Pamire whose civic organisation has threatened to take Zifa to court for the various sanctions imposed on players and officials found guilty of Asiagate match-fixing.