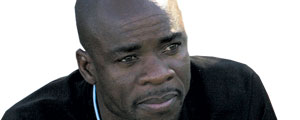 HIGHLANDERS coach Kelvin Kaindu is the favourite to lift the Castle Lager Coach of the Year award when sports journalists, coaches and referees meet to select the finest of the 2012 season on November 17.
BY THE SPORTS REPORTER
Sponsors Delta Beverages, in their second year of bankrolling the event since their return to top-flight football last season, have stuck to the same rules used last season which also saw the expansion of the selection panel.
All the 16 Premier Soccer League (PSL) coaches will vote (but not for coaches). Two members of the Footballers' Union of Zimbabwe and the referees' association will also have representatives in addition to the sports writers and a panel of senior journalists who will act as observers.
Last year's award was won by former Hwange coach Tennant Chilumba after the coalminers ended in fourth place on the log to qualify for the Caf Confederation Cup in whichthey reached the second round.
Taking over a team that has struggled since their last championship win in 2006 and a second finish in 2007, Kaindu put together a group of low-key players and went on an 23-match unbeaten run that was stopped by Monomotapa.
They lie second in the league with two games to go before the end of the season and their outstanding perfomance gave defending champions Dynamos and the league some level of competition. Bosso have 62 points, while Dynamos lead with 65 points. Dynamos coach Kalisto Pasuwa is another favourite.
Shabanie Mine's Nelson Mazivisa has 18 goals so far and is tipped for the Golden Boot and a place in the final 11. The best goalkeeper of the season, who also will not be voted for, will come from the goalkeeper who played the most games and conceded the least goals.
Just like last year, the Soccer Star award carries a $5 000 prize money, while the first and second runners-up will get $3 000 and $2 000 respectively.
The eight finalists get $1 000, while the top goalscorer is assured of $3 500. The Coach of the Year and Referee of the Year will get $3 500 and $2 000, respectively.
PSL Footballers of The Year criteria
  A player should have played at least 10 of Castle Lager Premier Soccer League Matches in 2012.
  Any player who was shown two or more red cards during the season is not eligible for selection.
Any player who received six or more yellow cards during the 2011 season is not eligible for selection.
Any player who was summoned/charged and found guilty by his club, the Castle Lager Premier Soccer League, Zifa or any court of law for any kind of offence shall not be eligible for selection.