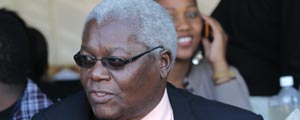 THE government has intervened to stop the Harare City Council from attaching residents' and ratepayers' properties, after they defaulted paying utility bills, saying the move was unacceptable and morally wrong.
REPORT BY MOSES MATENGA STAFF REPORTER
Local Government minister Ignatius Chombo yesterday attacked the move as illegal and unacceptable.
"That is totally unacceptable. Tell whoever is doing that to stop it immediately," Chombo said.
It is understood the local authority had engaged the Messenger of Court to recover unpaid rates.
Dozens of residents, most of them pensioners, had their property attached for failing to pay their rates to the local authority.
Councillor Peter Moyo said: "They are doing this without a council resolution and we wonder where they are getting their power from. We don't want people who want to take advantage of the plight of the poor. In Mabvuku-Tafara, there is a similar problem. I spoke to the minister, remember we are working together with everyone affected whether Zanu PF, MDC or any other party, to solve this crisis. The minister said people's property must be returned."
Moyo added: "Boys and all the men in the area, we have to resist even if they bring guns. Don't be abused. I told the town clerk (Tendai Mahachi) that people's property should be returned and if they sold it, they must replace the property."
However, the councillor encouraged residents to make efforts to pay their rates.
"You are paying for DStvs. Why not go with even the little you have to council and pay? If they can't take whatever amount you have, call me and I will come there," he said.
Harare Residents' Trust Charles Mazorodze urged council to cancel debts accrued before dollarisation.
"As long as Harare does not remove the debts between 2009 and 2010, we will not tolerate what they are doing.
"We will not accept that and we will hold demonstrations, especially against the managers, because it seems they are the ones sabotaging councillors who happen to be decision makers," he added.