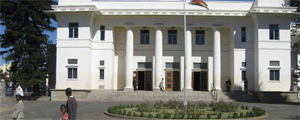 THE Bulawayo City Council (BCC) has adopted plans to convert Thorngrove Hospital into a laboratory, a recent council report has revealed.
Report by Fortune Moyo Staff Reporter
The project, earmarked to be implemented soon, is set to be bankrolled by an unnamed donor at a  cost of $100 000.
"The BCC Health department has a laboratory at Khami Road Clinic where all municipal clinics send their specimens. However, the laboratory is small and crowded and there is need for a spacious laboratory in order to function efficiently and avoid the spread of diseases," said council's director of health services Zanele Hwalima.
"We had identified two old buildings at Thorngrove Hospital that could be renovated and converted to modern laboratories. The cost of renovations was approximately $90 000. The donor has promised to avail the funds as soon as details were given of the costs," said the report.