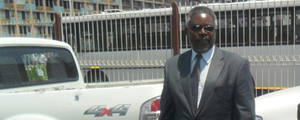 LABOUR unions and a prominent Bulawayo-based economist Eric Bloch have rubbished recent reports by the Zimbabwe National Statistics Agency (Zimstat) that the country's unemployment rate stood at 10,7% instead of 80% as claimed by independent analysts. Report by Pamela Mhlanga Own correspondent
Addressing participants at a 2011 Labour Force and Child Labour Survey dissemination workshop in Bulawayo on Wednesday, Zimstat director-general Mutasa Dzinotizei described as misleading reports that Zimbabwe's unemployment rate stood at more than 70%.
"Unemployment is defined as all persons above a specified age, who during a reference period were without work or were not in paid employment or were self-employed," Dzinotizei said.
"It refers to people who are available for work, people who are seeking work and have taken specific steps to seek for work or self-employment. On the basis of the 2011 Labour Force Survey, unemployment rates in Zimbabwe, using broad and strict definitions were 10,7% and 5,4% respectively. These compare with the 9% and 4,4% rates in 2004."
At 10,7%, Zimbabwe's unemployment rate would be far lower than that of South Africa, estimated at 25,5%, which is sub-Sahara's biggest economy employing hundreds of thousands of Zimbabweans regarded as economic refugees.
However, the Zimbabwe Congress of Trade Union secretary-general Japhet Moyo yesterday told NewsDay that Zimstat had made up its own definition of the unemployed which was different from the one used by the United Nations.
"We have a challenge in that Zimstat has changed the definition of the unemployed," he said. "Our finding is that we also consider those that are not employed in the formal sector as the unemployed and the figures show that it is between 80 and 90% as indicated by the UN report that Zimstat has apparently ignored.
"People in the informal sector, who are making their own income, are not recognised by the State when it comes to taxes by National Social Security Authority. They cannot be counted as employed, which is why the rate of unemployment in Zimbabwe is actually higher than the 10,7% they are giving us."
Economist Eric Bloch said the unemployment rate stands at "approximately 87%" and Zimstat could have excluded the aged and those in informal sectors in the unemployment category.
"The unemployment rate in Zimbabwe is the biggest tragedy at the moment and that position is not going to change or improve unless something urgent is done about the situation," he said. "Poverty is still going to thrive until there is revival of industries in the country and there is an environment where there is creation of opportunities for investment."