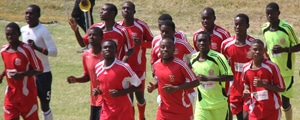 Gunners . . . . . . . . (0) 1 Monomotapa . . . . . . . 0
GUNNERS eased their relegation woes after upstaging high-flying Monomotapa in a Castle Premiership match at Lafarge on Wednesday. REPORT BY DANIEL NHAKANISO SPORTS REPORTER
The match was delayed by 30 minutes after the home side arrived late, after a dispute with the team's owners over salaries.
When the match eventually started Gunners turned on the style with some enterprising play although it was not complemented by their wasteful strike force.
Youthful midfielder Tapiwa Dephistara struck the lone goal for Gunners from a rebound to make amends for the numerous scoring chances that the home side squandered.
Yesterday's win saw Gunners jump two places on the log standings from 15th position to number 15 on 25 points, leapfrogging Hardbody and Blue Rangers who both lost their matches on Wednesday.
Gunners were deserved winners after completely dominating a subdued "Monoz" side that uncharacteristically was off-colour in yesterday's match.
In fact, Gunners, who were impressive with their quick passing football, could have won the match by an even wider margin had their strike force been forceful in front of goal.
Gunners' frontman Ishmael Lawe was the chief culprit as he failed to put away the numerous scoring chances that came his way.
The home side was made to wait until the 63rd minute when Dephistara punished some slack marking by the visiting side with a low right-footed strike from inside the box.
Monoz goalie Artwell Mukandi had done well to save Willard Gondo's shot from inside the box, but his defenders reacted slowly in dealing with the rebound which allowed Dephistara to pounce and bury the rebound at the bottom right corner.
Gunners coach Moses Chunga said he was happy with the result but admitted that his charges still had a lot to do to avoid relegation.
"It was a good result for us, but we are still fighting relegation and the next two matches will be crucial. The boys put on a fantastic display and we could have won by a bigger margin, but we need to work hard on our finishing as goal difference could still come into play in the relegation battle," said Chunga.
His opposite number Biggie Zuze admitted that his charges were simply outplayed by a hungrier Gunners side.
"We didn't play well today (yesterday) and credit to Gunners. They played well as a team and dominated the match right from the first whistle to the end. We didn't play our normal game and hardly created any chances. We need to improve in our next matches," he said.