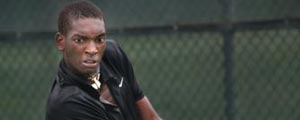 Tennis ace Takanyi Garanganga's back-to-back triumphs on the ITF Pro Circuit in Turkey last week have propelled him into the top 400 on the Association of Tennis Professionals (ATP) rankings for the first time in his career. Report by Sport Reporter
The 22-year-old United States-based Zimbabwean professional jumped 152 places from position 612 to a career high 460 when the rankings were reviewed yesterday.
Garanganga, who has represented Zimbabwe at Davis Cup level, recently hit a rich vein of form by storming to consecutive singles titles in the Turkish city of Beleconti.
The talented player first won the Turkey F35 Futures title by default after his opponent Nikolaus Moser from Australia retired in the first set of the final due to injury on October 6.
Garanganga proved unstoppable a week later, beating higher ranked opponents on his way to lift his second singles title at the Turkey F36 Futures in Antalya after beating Russia's Andrei Plotniy in the singles final.
The month of September has so far been Garanganga's most fruitful on the professional circuit, as he managed to add to two singles titles to the lone doubles title he won in Guatemala in January last year.
Garanganga's recent success comes after he recently changed coaches after parting ways with compatriot Pfungwa Mahefu.
The All Africa Games gold medalist is now being coached by former top player Ronald Jean-Martin Agénor.
Agénor, who was born in Morocco and lived in Bordeaux, France, for many years during which he reached the quarter-finals of the French Open in 1989.
The former African junior champion's rise on the tough ATP World Tour is a massive boost for local tennis at a time when the country has struggled to produce quality players since the retirement of the black siblings, Cara, Byron and Wayne.