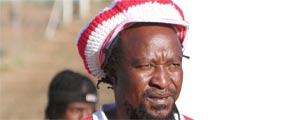 Former Hardbody coach Tavaka Gumbo has predicted that his former pay masters will not win the relegation dogfight and are destined to play in the unfashionable Central Region Soccer League next season.
Report by Ephraim Shoko The much-travelled coach was sacked from Hardbody in July following a string of poor results that saw the Gweru side gasping for life from the first match of the season.
He was replaced by former NewZimsteel coach Godfery Tamirepi, who has a daunting task of steering the Gweru side to safety.
Gumbo, who has since found a new home at Eastern region side Setheo United, remains adamant that he is not to blame for Hardbody's poor showing in their maiden season.
The dreadlocked coach told NewsDay Sport that Hardbody's relegation woes have nothing to do with the technical department, but are a result of administrative hiccups.
"I do not see them surviving relegation this season. They are bound for Division One. As long as they do not deal with the administrative and financial problems at the club, they will even go further down," said Gumbo.
When Gumbo was dismissed from his job at Hardbody, the club's spokesperson Wellington Ngulube accused the gaffer of lacking "tactical discipline" leading to the team losing successive matches.
Gumbo said: "The biggest problem at that team is financial. You can not expect a coach to perform miracles and bring results with hungry players. It was always difficult for any one to motivate the players, which explains the poor results.
"Like I said, because the same problems still continue to exist at the club, I do not see their fortunes changing. They will go down."
The gaffer took charge of Hardbody for 14 matches and managed 10 points, three wins and one draw.
Gumbo's replacement, Tamirepi has taken charge of seven league matches so far and has managed to collect eight points after two wins and two draws. Despite changes in the technical department, Hardbody's fortunes have not changed a great deal as they remain third from bottom of the log, a position they have become familiar with for much of the season.
Gumbo started life at Eastern region side Setheo with a 1-1 draw away to log leaders Triangle at the weekend.
Setheo trail the log leaders by five points and with 10 matches to go. The Masvingo outfit remains hopeful of overtaking Traingle in the promotion race.