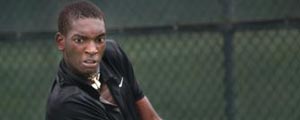 Zimbabwean tennis ace Takanyi Garanganga sealed his second ITF Futures Tour title in consecutive weeks in Turkey on Sunday, barely a week after winning his maiden career professional singles title in the same county.
Report by Daniel Nhakaniso Sports Reporter The 22-year-old star emerged victorious at the Turkey F36 Futures in Antalya after beating Russia's Andrei Plotniy in the men's singles final at the Tennis Organisation Beleconti Resort. This was Garanganga's second consecutive victory in Turkey after he won the first leg of the back to back tournaments at the same venue last weekend.
The Zimbabwean star was, however, denied a brace in Turkey after he together with his compatriot Tinotenda Chanakira, were knocked out in the semi-finals 4-6, 3-6 by the duo of Matteo Marfia from Italy and Marat Deviatiarov from Ukraine.