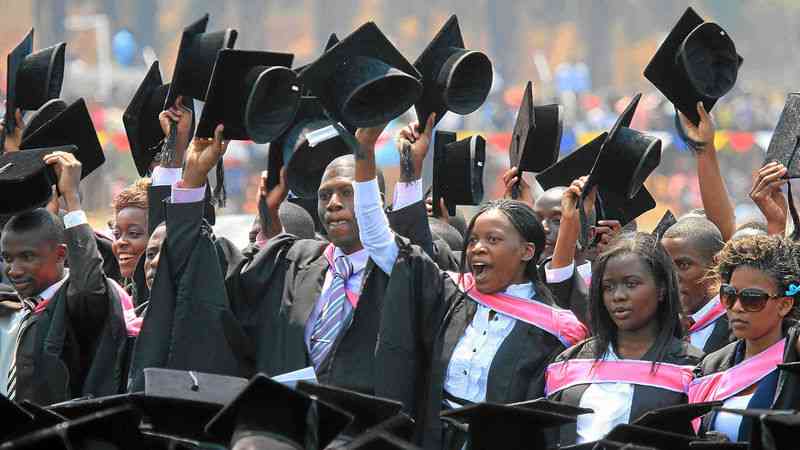 Since last month, President Emmerson Mnangagwa has capped thousands of university graduates at various state universities and more graduation ceremonies are lined up before the end of the year.
It is a given that the majority of the graduates churned out by the universities will be on the streets to hustle while others will remain at home and wait for responses to their job applications.
About 2,3 million young people between the ages of 15 and 34 are unemployed, according to data from the Zimbabwe National Statistics Agency (Zimstat).
The research also revealed that Matebeleland North had the highest expanded unemployment rate at 65% while the countrywide expanded unemployment rate for people aged 15 and over stood at 48%.
This percentage was greater for women, at 53%, than for men, at 43%.
There will be challenging periods, marked by psychological issues and drug usage, for the thousands of students who have recently graduated and those who are yet to graduate this year.
In his first public speech after returning from exile as the country's new leader in 2017, Mnangagwa pledged a "new, emerging democracy".
He promised to create approximately five million jobs after taking over power from the late Robert Mugabe.
Zimbabwe's inflation rate stands at more than 200%, while the local currency has devalued by more than 40% since the beginning of the year.
Another explanation for the country's high unemployment rate is that many businesses are struggling to pay even their few employees.
While thousands of graduates remain unemployed, academic institutions are obliged to enrol students each year.
Students who enrol at universities and colleges to pursue various degree programmes are typically optimistic about their future prospects until they graduate.
When they hit the streets, the common language is 'Pakaipa wangu' (It's tough).
It is no longer about the strength of a degree, but rather about graduates urgently needing jobs.
Mnangagwa recently stated during a graduation ceremony at Chinhoyi University of Technology (CUT) that academic qualifications are no longer sufficient for employment. Ironically, Zimbabwe's education system has focused on theoretical rather than practical abilities.
It has long been argued that universities and other institutions of higher learning should reconsider their approach to course delivery and place a greater emphasis on practical skills.
Additionally, these institutions ought to encourage a culture of career advising and integrate the demands of the labour market into their curricula, especially for new students.
However, repairing the country's economy should be the primary concern because having a wealth of practical skills from a university is meaningless when industries are shrinking or closing down completely.
There are no options for university graduates, whether they have practical skills or not.
Zimbabwe's economy has struggled with youth unemployment for a long time and life has not become much easier.
With a huge segment of youngsters alienated and unprepared to lead their country, the world cannot accomplish and sustain global progress.
Struggling Zimbabwean youths will continue to trek to developed countries, and nurse aid certificates have become one of the greatest passports to travel to the United Kingdom or the United States.
Poverty and inequality drive looting, hence foreign investors cannot be assured of a calm economic atmosphere in Zimbabwe.
The large numbers of graduating students should not feel compelled to find jobs in other countries.
To address the country's employment issues, the Zimbabwean government must begin to recognise the value of all professions.
Policymakers must enact rules that change the educational focus from passing examinations to investigating the real-world applications of a degree.
Most importantly, the government must create jobs in all professional disciplines.
Because their countries have effectively exploited their people in such industries, development partners may advise Zimbabwe on how to create jobs in less popular fields.
Adopting a comprehensive approach to the employment problem will allow the Zimbabwean government to better generate jobs and skill-training programs for university graduates, particularly youth from rural areas where most agricultural and manufacturing activities take place.
*Evans Mathanda is a journalist and development practitioner who writes in his capacity. For feedback email: evanngoe@gmail.com or call 0719770038 and Twitter @EvansMathanda19
Related Topics