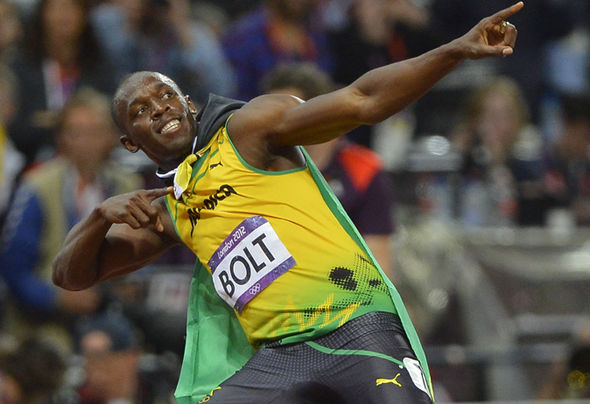 BY TIM MIDDLETON OVER the years there have been some extraordinary as well as trademark celebrations of sporting success. Cristiano Ronaldo's well-known and often-copied 'Si' celebration comes to mind. Usain Bolt's two-armed lightning salute has become iconic.
Rivaldo would celebrate scoring a goal by running around the field with his shirt pulled up over this face. Bebeto famously celebrated a goal by cradling a pretend baby. Roger Milla celebrated his World Cup goals by dancing with the corner flag. Peter Crouch, the soccer player, performed his robotic dance. Many perform extreme gymnastic movements. Teams also seem to go to enormous lengths to choreograph their celebrations.
Tennis players have also been known to celebrate over the years. Some time back, the victor would jump over the net to shake the hand of the defeated opponent. Nowadays, they fall to the ground on their back, they kneel in disbelief, they dance around the court, they cover their face, they lap up the applause, they scramble and climb up to their supporters' box.
They scream, roar and shout. We might ask why the winners only clamber up to the Players' coaches' box after the Final? Why do they not do it after every match? In fact, will they do it after every set that is won?
What about after every game won? They do not do it after each successful game, set or match because they are just steps to a higher level. If that is the case, so too is winning a tournament, a step towards winning another tournament, a forward move to further improvement. Do we need to celebrate excessively?
Great discussion around this topic followed the victory in the Ladies Wimbledon singles final by Elena Rybakina, when all she did was raise her racquet to the crowd. When questioned she admitted that she "did not know how to celebrate" her incredible victory, while her opponent in the final jokingly said later she would have to teach Rybakina "how to celebrate properly". However, it begs the question: who says how someone must celebrate? In what way did she not celebrate properly? Perhaps she is right and she is the one who does celebrate victory properly.
Indeed, what is wrong with celebrating in the manner that Elena Rybakina did? Why on earth do we have to teach her how to celebrate? She did celebrate her win but with great dignity and humility, qualities that we would all do well to emulate, not least our children, especially as victory can so easily and quickly turn to defeat.
Her victory celebration exhibited extraordinary respect, a further quality that we should be inculcating in our children. She showed immense respect for her opponent who had lost in a close and exciting match by not rubbing her face in her loss. Her opponent, Ons Jabeur, admitted significantly and tellingly that "It's nice to play Elena.
Even when you lose against her, she didn't do any big celebration or anything." Rybakina also showed respect for the sport by not trying to be bigger than the sport. Lastly, she showed respect not only to the loser but also to the millions of people who are suffering in the world at this time – after all, what is winning a major tournament in comparison to losing your life, your home, your job, your family?
Jabeur is quoted as saying later that "Maybe because she's shy and she doesn't show her personality, I think her game speaks for her". Read that again: "her game speaks for her": there we have it. Why do we need to make a show of our celebration when our game speaks for ourselves?
Do we really have to celebrate extravagantly? Psychologists seemingly would argue that we do. We are told "Celebrations foster a positive attitude towards learning and encourage people to take part."
It makes players feel more confident and perform better under pressure. Others claim that winning teams make physical contact 50% more than losing teams. Research also proposes that celebrating goals has an impact on team performances, claiming that "82% of players who expanded both their arms ended up on the winning team; 79% of players who made fists with both their hands ended up on the winning team; 77% of players who puffed out their chest after scoring ended up on the winning team."
So, we are led to believe that how we celebrate determines whether we have cause to celebrate – really? Must we celebrate in this way in order to achieve results?
If we are going to celebrate celebrations, let us celebrate Rybakina's. She is the one who knows how to celebrate. The only racket we want is Elena's racquet in the air.
Tim Middleton is a former international hockey player and headmaster, currently serving as the Executive Director of the Association of Trust Schools Email: [email protected]
Related Topics