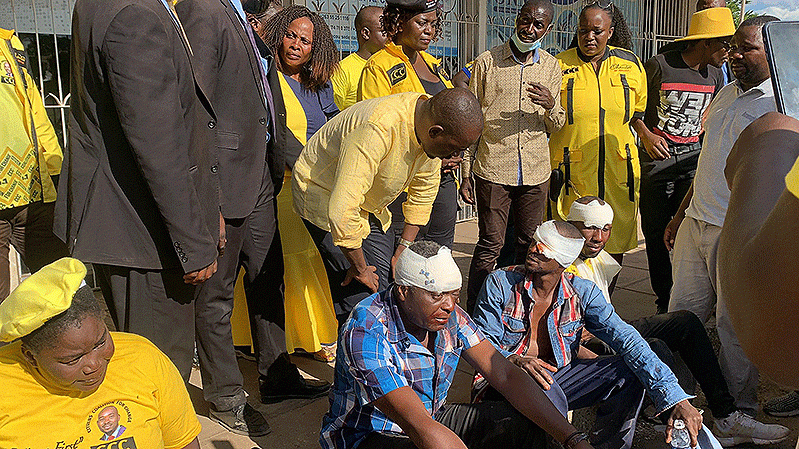 Political violence rocked Matobo district, Matabeleland South province, at the weekend when Zanu PF members reportedly attacked opposition Citizens Coalition for Change (CCC) activists who were campaigning for by-elections set for October 22.
The by-elections are meant to fill vacancies for Matobo ward 2 and Insiza ward 4 council seats.
CCC activists Descent Bajila and Sarender Kapoikilu had their vehicle, a Mazda twin cab, vandalised. Its windows were shattered and wheels deflated by alleged Zanu PF supporters.
Several other vehicles belonging to CCC activists were damaged.
Kapoikilu told Southern Eye that the Zanu PF supporters used sharp objects to deflate the opposition's vehicle tyres.
"They just pounced on us while we were seated preparing for the elections. They attacked us and deflated our tyres," he said.
In an audio recording, Hwange West legislator Daniel Molokele said he and his team had to flee for dear life after they were attacked by Zanu PF supporters who were using seven cars.
In another video, a CCC female activist is heard alleging that a Zanu PF-branded vehicle with number plates AFX 1433 fired shots at them, adding that some of the vehicles were inscribed Mashonaland Central province.
In a video, aggressive Zanu PF youths are seen charging towards CCC activists who ran away from the area.
The Zanu PF supporters, however, claimed that they were attacked by violent CCC members.
Disturbing pictures of female CCC activists allegedly forced to undress by Zanu PF supporters were also doing the rounds on social media.
Passers-by were caught up in the melee.
"I was delivering a refrigerator to a woman who had bought it. When I arrived at the scene, I tried to pass, but the road was blocked. They asked which party I belonged to, and I said Zanu PF. They said I was lying. They fired shots in the air and started beating up people. My vehicle was stoned.
"I was forced to roll on the ground and was accused of being a sell-out, because I was wearing a yellow dress," the female victim narrated.
CCC Matabeleland South chairperson Solani Moyo confirmed the attacks.
"I am just coming back from the scene. I am still compiling names of those who were attacked. A local woman, MaNyathi's shop was vandalised and all our vehicles were vandalised. This violence is similar to another Gukurahundi," Moyo said.
Zanu PF Matabeleland South chairperson Mangaliso Nqobizitha Ndhlovu said the violence issue was being fabricated.
"I saw some videos posted by people claiming that they were being shot at. Who goes live and takes videos while being shot at? They are just trying to tarnish our (Zanu PF) image. Yes we are campaigning, but they claim Zanu PF vehicles blocked their way. If they were shot at, I want to see the bullet marks on their cars," Ndhlovu said.
He said the video of women who claimed to have been stripped naked by Zanu PF supporters was questionable.
"It means the camera person waited for them to be undressed before taking pictures and videos. These things do not add up," Ndhlovu added.
National police spokesperson Assistant Commissioner Paul Nyathi said he was yet to be briefed on the matter.
l Follow Silas on Twitter @silasnkala
Related Topics