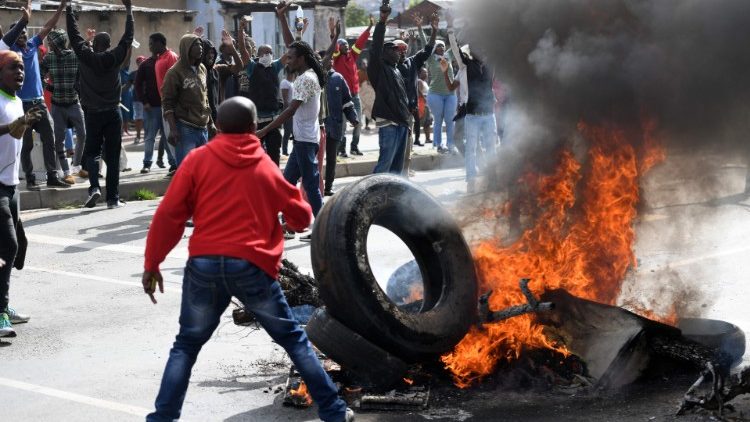 On  April 7, we woke up to the horrific images of a pile of ashes, the remains of Elvis Nyathi (43), a Zimbabwean man, who was brutally murdered after a violent mob stoned and burnt him to death in Diepsloot, South Africa.
His only crime was "failing to produce a passport". No one deserves to die merely for being undocumented and certainly not for merely being an immigrant.
We would like to offer our sincere condolences to his family and friends. May His Soul Rest in Perfect Peace.
The scale of brutality that has broken out in parts of South Africa, mainly low income, poor localities in Gauteng, has led to extreme terrorisation of foreign residents as locals target "illegal" immigrants whom they demand must be deported from South Africa.
The anti-immigrant sentiment singularly blames foreigners for displacing South Africans from spheres of economic life including but not limited to, jobs and housing whilst also squarely blaming them for the ever-rising crime rate, falling wages, stretching public health facilities, drug and human trafficking and squeezing social grants among other charges.
As is to be expected where vigilante groups such as Operation Dudula, All Truck Drivers Foundation (ATDF) and the South Africa First Party are involved, the violence has already led to a tragic loss of life.
Section 11 of the constitution of the Republic of South Africa, like Article 4 of the African Charter on Human and Peoples' Rights and Article 3 of the Universal Declaration of Human Rights, that the country is party to, guarantees and protects the sanctity of life.
While the locals may have legitimate grounds to raise socio- and economic issues impacting on their daily lives, on account of the immigrant influx, the killing of a fellow human cannot be tolerated.
Zimbabwe's political, economic and social crisis continues to cause intense misery among its inter-generational population.
Its oldest population is wasting away, many with hardly any personal savings and pensions after years of economic turmoil and inflation.
The working middle-aged population faces the daily consequences of an underperforming and badly managed economy that essentially exists to enrich the ruling elite and the politically connected.
By far one of the starkest indicators of the hopelessness and helplessness that pervades the Zimbabwe situation has been mass migration, into neighbouring South Africa, with the rest scattered elsewhere including mainly in Botswana, Namibia, Mozambique, United Kingdom, United States of America, Australia and Canada.
Zimbabweans escaping the political and economic turmoil across the Limpopo arrive in South Africa without proper documentation in some cases through no fault of their own.
People in Matabeleland and some parts of Midlands, for example, were affected by the Gukurahundi massacres in the dark 1983-1987 period.
For children whose parents were killed or simply disappeared, obtaining national identity documents necessary to acquire a passport has been a three decades' long nightmare.
While we acknowledge reports that the Zimbabwe's consul general in South Africa has begun 'engaging the South African government at all levels,' we remain concerned by the government of Zimbabwe's shocking lack of concern for the generality of Zimbabweans caught in the crosshairs of deepening socio-political and economic crisis.
It is incumbent upon the government of Zimbabwe to:
Realise and acknowledge its own role by immediately working on improving access to identity documents.
Embrace far reaching governance reforms to stem further forced migration. The daily influx of Zimbabweans into South Africa through legal and illegal migration is a clear indicator of push factors that the government must urgently address.
Address the socio-economic and political factors that are forcing Zimbabweans to cross into South Africa, Botswana, Namibia and other neighbouring countries. This is the surest way of ensuring that immigration does not end up overwhelming local populations leading to deadly events such as the one currently unfolding in South Africa.
Unreservedly engage their South African counterparts for immediate relief and protection of Zimbabwean citizens and other foreign nationals in South Africa.
We reiterate that South Africa has a critical role to play in resolving the multi-faceted crises in Zimbabwe and therefore implore the government of South Africa to:
Urgently show a renewed commitment to provide a permanent solution to end xenophobia.
Uphold their important obligations towards protecting refugees and asylum seekers under international law. South Africa is party to the Convention relating to the Status of Refugees (1951) and the Convention Governing the Specific Aspects of Refugee Problems in Africa (1969). The South African government is therefore mandated to ensure the safety and security of all refugees domiciled within its borders.
Desist from making irresponsible statements that may trigger xenophobic attacks against Zimbabweans and other foreign nationals.
Galvanize a regional response by putting Zimbabwe back on the Southern African Development Community (Sadc) agenda and ensuring that Zimbabwe follows rational economic and political policies.
Swiftly intervene and put in place long-term strategies to reduce inequality in South Africa. This will go a long way in addressing the toxic xenophobic feelings that the region can no longer ignore.
To Sadc
The regional body must take a clear stand against the erosion of constitutionalism and the rule of law in Zimbabwe. –Crisis in Zimbabwe Coalition
Worrying trends ahead of 2023 elections
O
n April 13 2018, three months before the harmonised elections, Zanu PF national commissar and leader of the war veterans, Victor Matemadanda said "If (the then MDC Alliance leader and presidential election candidate Nelson) Chamisa wants a debate, maybe he can engage the Zanu PF youth league, that is his level.
"We can't imagine the president taking time off serious bread and butter issues to respond to a goat that is scratching the walls from outside."
Wind down to 2022 February, Vice-President Constantino Chiwenga, while addressing Zanu PF supporters in Kwekwe, claimed that Chamisa, now leader of the newly formed CCC, and his supporters were like "little Goliaths" that needed to be crushed with a huge stone like lice until nothing remained for the flies.
It is such pronouncements from political leaders that incite citizens into political violence and as the (Zimbabwe Peace Project) ZPP recorded in the 2018 elections and the just-ended 2022 by-elections, nothing much has changed and if at all, the political and human rights situation in Zimbabwe has gotten worse in the past four years and we illustrate this in this section
In July 2018, a month before the national election, ZPP recorded 294 politically motivated human rights violations and in March 2022, the month when the country held by-elections in some 28 parliamentary constituencies and 108 council wards, ZPP recorded 240 human rights violations.
The fact that the numbers nearly match point to the importance of the March 26 by-election and confirm that the by-elections were a litmus test for the 2023 harmonised elections.
The political parties did not want to leave anything to chance and different from other by-elections the country has witnessed the presidents of the contesting parties led the campaigns.
The predominant human rights violations in July 2018 were intimidation and harassment and ZPP recorded 134 compared to 115 in March 2022. While some victims of intimidation and harassment do not suffer any visible scars the invisible scars they get determine the way they will act on election day including staying away from the ballot all together.
While in the run up to the 2018 election, the then biggest opposition party, MDC Alliance held its rallies without the police banning them.
The situation was to change in 2022 when police banned five CCC rallies and at one of those, in Gokwe, they fired teargas and brutally descended on party supporters who had turned up for the rally.
Out of the five two went ahead in Masvingo and Epworth when the party approached the courts.
What was also baffling was the conditions set out for the CCC to hold rallies; they were not allowed to bus in their supporters while that condition never applied to Zanu PF where supporters were bussed in to all their rallies.
The bans on rallies marked a fresh low in Zimbabwean politics and prove that in 2018, government just intended to window dress since it was fresh from a coup.
What this also means is that in the run up to the 2023 elections, the environment is likely to be marked by more State interference into campaigns of the opposition parties, especially the CCC, which put up a good show in the March by-elections. –Zimbabwe Peace Project
Feedback
While western nations are calling for the abrupt end to fossil fuel utilisation in Africa, countries such as the UK and Norway continue to hold licensing rounds intended to scale-up exploration and production. With Africa's socioeconomic development hinging on the exploitation of the continent's oil and gas resources, this hypocrisy could spell travesty for Africa. As western organisations such as Greenpeace move to end African hydrocarbon investment in the name of climate change, shouldn't European nations move to decarbonise first?
Europe is well-positioned to decarbonise its high-emitting sectors, owing to the availability of the required technologies; the regulatory frameworks in place; and the financial and economic capacity to do so. Having utilised 'dirty' fuels such as coal, oil and gas for decades, the continent has been able to develop its economies substantially. According to the Eurostat, the EU operates a single market made up of 27 countries; total GDP in 2019 equated to €16.4 trillion; the EU accounted for 15% of the world's trade in goods; and economic growth is projected to increase by 4% in 2022 and 2.8% in 2023. However, countries in the EU are also responsible for approximately 18% of global carbon dioxide emissions produced since the industrial revolution began. In the third quarter of 2021 alone, the EU's greenhouse gas emissions totalled 881 million tons of CO² equivalent. Yet, these nations continue to call for the end of African oil and gas development, despite holding licensing rounds to develop their own oil and gas.
On the contrary, despite holding some of the world's largest oil, gas and coal reserves — estimated at 125.3 billion barrels of crude oil, 620 trillion cubic feet of gas and nearly 16.4 billion short tons of coal —, Africa's development has been slow, largely due to natural resource exports, refined product imports, the lack of adequate infrastructure and the lack of adequate investment and reinvestment in key sectors. Representing the world's fastest growing population; the youngest population; and holding some of the world's fastest growing economies, Africa has the chance to accelerate development across its entire economy, driven by the exploration, production and utilization of its oil and gas reserves. –African Energy Chamber
Related Topics