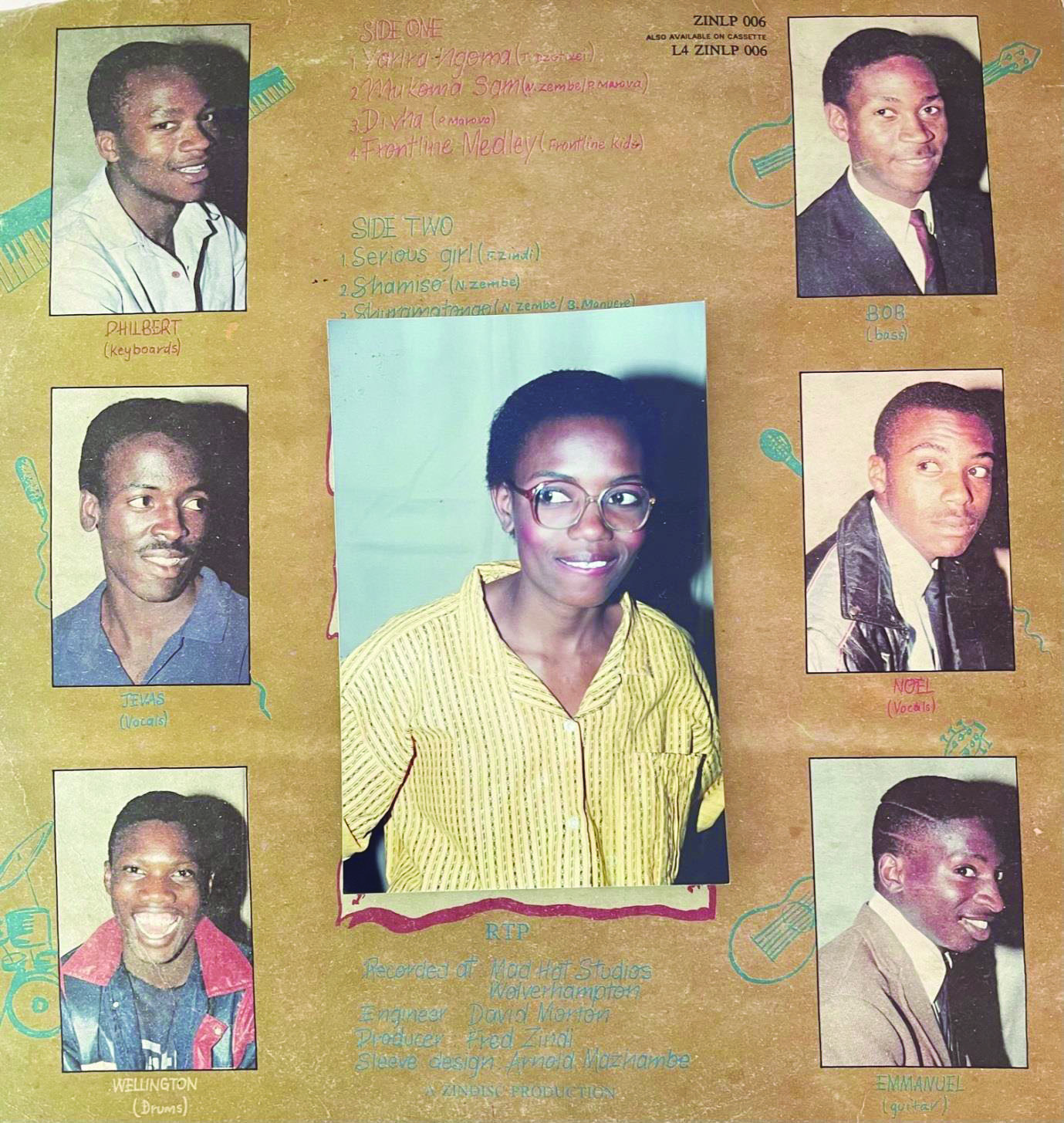 To answer this simple question, the remaining Frontline Kids are no longer the kids you knew in the 1990's as they are in their fifties now.
It is exactly thirty-four years since the formation of that band. Initially there were seven band members who included the four who are still alive, Jevas Dzotizei, Emmanuel Thomas, Philbert Marova and Noel Zembe. Three of them Bob Manwere, Wellington Masvosva and Primrose Sithole are dead.
The first four are still somehow engaged with music as Jevas is busy with another band, Emmanuel is a recording artiste, a pastor as well as a bag manufacturer while Philbert and Noel have become jazz and gospel artistes respectively. Some of you might ask: "Who are they?" This is how it all began:
Every independence eve since 1981, we were running music festivals to celebrate Zimbabwe's independence from colonial rule.
It was on April 17, 1987, on the eve of Zimbabwe's seventh independence anniversary when I was master of ceremony and stage manager at the Independence Celebrations at Rufaro Stadium in Harare.
The celebrations began around 6 pm. At around midnight, The Rusike Brothers, Lovemore Majaivana, Paul Matavire, Robson Banda, The Four Brothers, Ilanga, Talking Drum, Comrade Chinx and Simon Chimbetu had done their performances. I was just about to introduce Thomas Mapfumo on to the stage when I was suddenly interrupted by this young man who jumped onto the stage before the bouncers could stop him.
He said: "Mukoma Fred tiri chikwata chekuDzivarasekwa. Tine shungu dzekuridzawo nhasi" (We are a group from Dzivaresekwa and we want to be included on the bill tonight).
I politely thanked this young man and told him that the show had been organised months before tonight's event and there is no way we were going to break the programme to fit his group in. However, I gave him my telephone number if his band wished to participate in the following year's celebrations.
I had forgotten about this incident until three months later when I received a call from Bob Manwere reminding me about my promise to include his band in the following year's independence celebrations. I asked him several questions about his band and whether they could really play.
He told me they did their rehearsals in Dzivarasekwa and that I was free to come and listen to them rehearsing. I made an appointment for the following Saturday.
On arrival, I learned that the band comprised school kids and was called Scanners International. They were being managed by a 22-year-old gentleman called Tedious.
Their lead singer was a 17-year-old chap called Peter Tembo and the backing vocals were supplied by another 17-year-old called Jevas Dzotizei. The rest of the band consisted of Bob Manwere aged 17, who played the bass, Emmanuel Thomas on lead guitar and Philbert Marova on rhythm guitar, both aged 16. Then there was Wellington Masvosva, aged 14 who played the drums.
They were playing on some battered acoustic guitars and a make-shift drum kit with torn skins. Together, they could hardly play, but I saw the passion they all had for wanting to be something in the world of music.
After an hour, I had heard enough and I bid them farewell with the promise to get in touch. I didn't. It wasn't until November that Bob Manwere phoned me again.
Then I made a commitment. I went to see the band again, this time armed with management contracts and made the group sign individual contracts.
They participated in the following year's Independence Celebrations. I became their manager. I went to buy the band a new set of instruments in November, 1988 and offered to change their name to Frontline Kids.
Peter Tembo, however, did not like these swift changes and chose not to sign.
We soon replaced him with a girl from Bulawayo, one Primrose Sithole and later Noel Zembe who took over the vocals. As I had bought a keyboard, we advertised for a player and found David Nyadore who was good at it but soon left for Bulawayo to work as a draughtsman.
It was at this juncture that I persuaded Philbert Marova to learn to play the keyboards and he obliged. I even paid for his lessons at the Zimbabwe College of Music. The band was now complete.
We then formed The Frontline Kids Band in December 1988 when their average age was 16 years. Within two years, they had recorded three albums Children of the Frontline, African Jive and Hupenyu, two of which were in Zimbabwe's top 20 charts for over eight weeks each. It was the fourth album, Yarira Ngoma which made a very big impact on Zimbabweans.
In 1989, soon after the formation of the group, the Frontline Kids were invited by  Councillor Winston Dzawo who was Harare's Deputy Mayor to perform for President Mugabe during the National Youth Week. In 1990,with invitation from J.J. Promotions, they were also the supporting act for well known South African musicians, Brenda Fassie, Chicco and Chimora, Yvonne Chaka-Chaka and the Soul Brothers. They also shared the stage with visiting Jamaican singer, Dennis Brown in the same year.
The Frontline Kids, defined their music as Afro-acid, which was a fusion of jiti and western music.
This music saw them going as far afield as Botswana, Mozambique and the United Kingdom. One of the highlights while touring the U.K. in 1991, was when they were invited to perform at St. Andrews University in Scotland where Prince Charles's son, Prince William was studying.
Because of the hype they had received over the radio from one BBC 1 Radio DJ, John Peel, who kept plugging Makwiro, the attendance ballooned to 5 000 people. At another venue within the same university was the British reggae band, UB40 performing. They had less than 50 people in attendance as everybody had flocked to the Frontline Kids from Zimbabwe concert where Noel Zembe proved his mettle by dazzling the crowd with his spirited performance.
On that occasion, Philbert started the stage antics we had been familiar with in Zimbabwe in which he wore six pairs of trousers and he would then shout to the audience in Shona "Ndobvisa here?" and we would shout back "Bvisa!". He would then take one pair off at a time until all six were done. This time, in Scotland, it didn't work as he tried the English translation of such antics.
He would say: "Shall I take off?" and he would instruct the English/Scottish audience to respond: "Take off!"  The audience, thinking that he wanted to fly but were surprised to see him removing his trousers. They did not think that it was funny. I was embarrassed.
In 1992, The Frontline Kids split up after most of the band members had reached the age of 20 when by consensus they no longer represented the kids. Like many young groups, age brought with it the desire for freedom to try out new horizons. Members went to seek individual careers, with Philbert joining the Rusikes, Jevas joining the Ndochi Stars and Emmanuel becoming a solo gospel musician.
Bob Manwere joined the Airforce Band and continued to play bass there. Wellington went back to school while Noel went into chemical manufacturing. Noel later formed his own band under the Zeal Project and recorded the single Baba Thoko at Prince Tendai Mupfurutsa's High Density Records.
After that Noel became a fully fledged gospel artiste. He recorded the hits Ndaiwana Hama, NdegaNdega, and Pinda Mudanga which all  became top hits on the Zimbabwe gospel charts. With these songs, Noel introduced a fresh gospel beat with exceptional lyrics to Zimbabwean audiences. Primrose Sithole, the only female member, got married and nothing more was heard of her musically. She later died after a long illness.
Bob also died a year later. Wellington who was still at school in Dzivarasekwa and was treated as a hero in his neighbourhood, borrowed my guitar, sold it to a friend the next day and then committed suicide by jumping in front of a fast moving car on the Bulawayo road. Up to now, nobody has been able to explain this mystery to me. I guess it was due to the pressures of becoming a star at a young age.
In 2002, the group reformed with three of the original members Emmanuel, Jevas and Noel and a new album In Africa was released. Bob, who had died two years before was replaced by Pablo Nakappa. On stage, they began to sing their old hits such as Yarira Ngoma as well as Noel's hits, Ndaiwana Hama and Baba Thoko but made very little impact. Due to their advanced ages the group was renamed Frontline Krew in 2003. It failed to compete with the new urban groups of youngsters who were now on the scene and the Frontline Krew died a natural death.
Related Topics