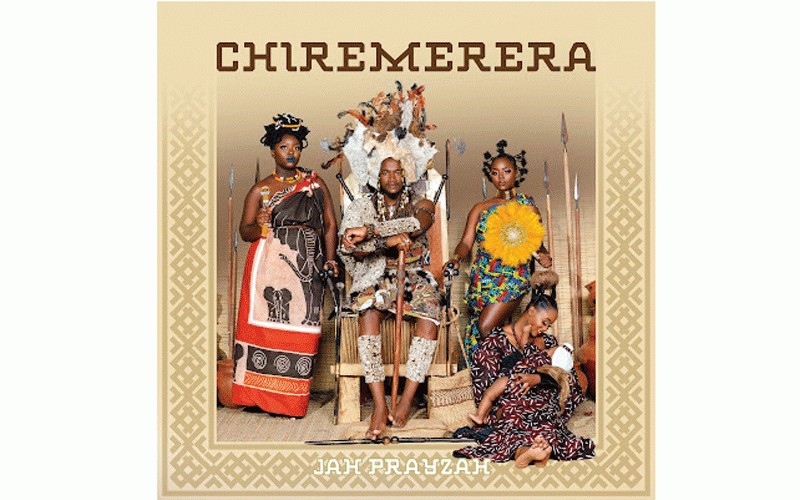 Eureka! Eureka!
Excuse the pun, but this must be the scream of joy from both Jah Prayzah and Elton Kurima of Gateway Stream Media after successfully launching two albums, Chiremerera at Old Hararians Sports Club in Harare and Maita Baba at Queen's Sports Club in Bulawayo on Friday the 12th and Saturday the 13th May respectively.
I was gobsmacked by this really astounding arrangement. It took a lot of thinking and planning to conduct a double album launch. Eureka!
This exulting exclamation is well worth it after Gateway Stream Media have had some disappointments in the past in their effort to establish themselves as one of Zimbabwe's leading music promoters.
Music promotion is often considered to be risky business because it is unpredictable. Every business comes with its own challenges. Disasters are normally a result of failing to put preventive measures that counter-act these challenges.
However, this time around, the partnership between Jah Prayzah's entourage and Gateway Stream Media (which is part of the Rainbow Tourism Group) worked wonders as both delivered a world-class show both in Harare and Bulawayo.
In 2020, Gateway Stream Media, had booked Jah Prayzah and Winky D, to 'face off' in what they dubbed "Best of Both Worlds Concert" but they decided to cancel the show at the last hour due to Covid-19 restrictions.
After getting the pre-requisite clearance from both the police and the National Arts Council, booking the venue, rigging the music equipment onto the stage, advertising on all forms of media and selling tickets, the last-minute cancellation of the concert must have eaten into their pockets.
The event was postponed at the 11th hour leaving music lovers, some who were already at the venue and those who had bought tickets for the live event, disgruntled.
This time, they seemed to have done their homework properly. They got it right as they attracted an estimated 5 000 music followers to the Friday Night gig in Harare and close to 3 000 in Bulawayo the next day. It took a lot of planning. The venue was prepared in time with the flamboyant and floridly decorated stage and P.A. system well in place.
Separate arrangements were in place for the VVIP, VIP and the general public.
The police and security companies with dogs to handle the crowds were also part of the experience.
I did not attend the Bulawayo concert, but Hugh, a representative from Gateway Stream Media informed me that the same arrangements as in Harare had been made for the Bulawayo concert. The price of tickets for the concert in both cities ranged from $15 to $50.
The Harare concert started at 6 p.m. on the Friday night. By the time I arrived at the venue, an hour later, the place was already crowded.
Supporting acts who included my very hard-working and focused U.Z. student, Mwenje Mathole who did the opening performance and Mokoomba, that band from Victoria Falls, thrilled the crowd.
Another supporting act, Feli Nandi (who had done a collaboration with Jah Prayzah in a song called Sarungano on the about- to- be launched album) also thrilled the crowds. Much later, Baba Harare came in towards the end of the concert as yet another supporting act. Abisha Palmer and Miss Red were the 'masters' of ceremony.
Feli Nandi (real name Felistus Chipendo) who used to be a singer with Mbeu and Mhodzi Tribe and released the singles: Ndega Ndada, Hazvineyi, Ndibateiwo and Mufudzi We Mombe before her 2021 debut album simply titled Feli Nandi gave a magical performance as she thrilled punters in the almost-full venue.
After Feli Nandi it was time for 35-year old Jah Prayzah (J.P.) to go on stage.
The eager crowd yelled affirmatively as Mr Palmer launched into his now epochal introduction. J.P. then came onto the stage and did a couple of songs before his mother came up to give a rather emotional speech. His mother, who came to the stage with J.P.'s wife, Rufaro, and uncle, was almost in tears as she talked about her successful son, Mukudzei. She thanked everyone who had given him support.
After that, Jah Prayzah was ready to mesmerise the audience with some of the 13 tracks from his Chiremerera album.
He gave an electrifying performance.
Indeed it was exhilarating as he and his band members showed off their well-choreographed and well-rehearsed dance routines. Fans were elated beyond description. It was mesmerizing, I could barely take my eyes off the stage literally.
So many people were screaming and desperately trying to get at Jah. One fan, who seemed possessed by Jah's music tried to get onto the stage and Jah's bodyguards had a hard time getting her to remain on the floor. She was fighting at them as if Jah Prayzah was something that belonged to her. I had never seen anything like it.
Jah's Friday night concert left people exhausted, completely worn out because of the energy he caused. Even when it was over there was still so much mayhem going on with people fighting police with dogs or knocking each other out of the way trying to get a closer look at Jah as he was trying to get to his vehicle which was parked close to the stage.
I just don't know what more to say other than that at last I am beginning to see a genius and legend in the making. A real Zimbabwean superstar.
Most of the tracks Jah sang on this night followed a traditional beat. I had not seen Jah perform for a while, but I noticed that most of his band members had changed from the last time I saw this line up. This time there were four horn players with brass instruments as opposed to one saxophonist, Stephen Nyoni, and four female backing vocalists and dancers. Gone are the days of Fatima Katiji aka Stimela, Mabla, Blessing Moyo, Thobekile 'Ëxcavator' Nleya and Gonyeti.
Although I am not yet familiar with all the 13 tracks on the Chiremerera album, I managed to catch some of the titles from the lyrics. These included Mhandu YeNhamo, Hurungudo, Zibundu, Wakarara, Sarungano (featuring Feli Nandi), Gonan'ombe, Hasha, Chirege Chiyambuke and Teya Mariva.
Jah Prayzah's talent shone through each track he performed and we listened. He also played some of his old tracks which included Goto. These blended well with the culture theme inherent in the Chiremerera album. I was politely applauding by clapping my hands after every song.
In all the songs, Jah managed to captivate his audiences with his powerful vocals and solid heartfelt lyrics.
Jah Prayzah has a palpable and mesmerising relationship with his audience. The resultant performance of that Friday night unquestionably shows Jah Prayzah as a master of his art. At the end of each song, the audience would be left in a trance and Jah would ask: "Muriko here ikoko?" as if to wake them up. (In the past, this same phrase was punctuated with "Masoja muriko here ikoko?" I notice that the 'masoja' bit has now been dropped just like he did with the soldiers' uniforms. I didn't get a chance to ask Jah why.)
It is not traditionally the norm that a less popular artiste performs after the main act. Either he or some of his musicians are late for the show or some other arrangement has been made.
However, after J.P. had finished his set, Baba Harare of The Reason Why fame came on stage. Baba Harare who used to be Jah Prayzah's guitarist in the Third Generation Band (3G) before he went solo did his best but the crowd was beginning to drift away as the main act had gone. I am not sure of the reason why he played last. He sang one of his collaboration songs with Jah Prayzah, Une Hombe much to the delight of the remaining fans.
Now for the Bulawayo show:
One of the band members from Jah Prayzah's 3G band told me that they had a different list of songs for the Bulawayo gig. These, he said, came from the Maita Baba album and they included Tocheka Hukama, Kamwenje, Shungu, Pikiniki and Ikisimisi Sifikhile.
The Bulawayo show was supported by Mzoe 7, Ma9Nine, Asaph, Nomfundo, D.J. Tira and Sha Sha the Mutare -born Amapiano artiste now based in South Africa.
I am told the show went down well.
On the Maita Basa album which was launched in Bulawayo, Jah Prayzah did some collaborations with D.J. Tira, Nomfundo, Takura and Gemma Griffiths.
It is quite unusual for an artiste to launch two albums within the same year. This does not happen often as it takes a lot of planning to work on just one album. The last time this happened was in 1990 when Simon Chimbetu released Nguva Yakaoma and Solid Gold in the same year.
Before that, it was Leonard Dembo who released two albums in 1987, Sharai and Kuziva Mbuya Huudzwa.
Keen Mushapaidze, J.P.'s manager who was impressed with how the weekend's events went, had this to say: "Both Harare and Bulawayo supported us abundantly. This will go down in history as one of J.P.'s biggest highlights of his career".
Indeed! Maita Basa!
Related Topics