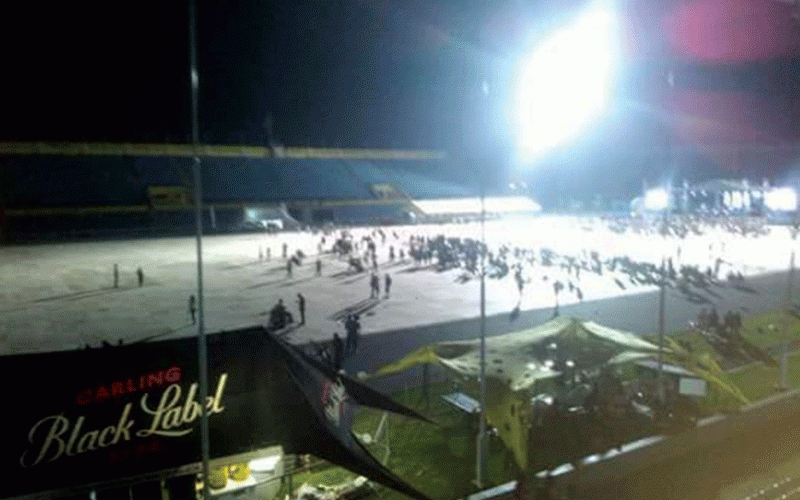 I have done some research on the poor attendances at concerts held recently in Harare. Most of the people I interviewed told me that in this economic environment the ticket prices at the concerts they wish to attend are the daunting factor.
They all seem to suggest that music promoters are being too greedy. To many of them, parting with US$20 for entertainment in this day and age of economic hardships is a non-starter. They would rather watch these concerts at home through YouTube or other online streaming services.
It looks like there is a slow-moving crisis in the performing arts: Ticket prices have risen far more precipitously than most Zimbabweans' earnings — to say nothing of the seductively low cost of streaming services at home.
Musicians and music promoters want to charge the maximum they possibly can but, in this day and age, the pocket rules the day as many enthusiastic music fans cannot afford to attend expensive concerts.
This rise affects the long-term health of arts organisations, which depend on the philanthropic support of music fans who have generally built close relationships with the artistes they like.
I have long been concerned that ticket prices present a barrier to newcomers who are curious, and also a barrier to inciting habitual attendance.
High ticket prices are a disincentive to the majority of concert-goers especially from the unemployed youths of this country. The higher the price, the less likely that the musicians expectations of big audiences will be met, leading to disappointment.
It's axiomatic: High ticket prices are barriers at a time when organisations need their doors to be open ever more widely. And dependence on ticket sales also hobbles programming innovation.
In Europe, where arts institutions receive sometimes substantial public subsidies, ticket sales are a far smaller percentage of budgets, so artistic decisions don't have to prioritise attendance. The National Arts Council of Zimbabwe should approach the government for a larger budget which will enable it to subsidise the arts.
Alternatively, the artistes themselves could use a model of ticketing which will appeal to every music lover; which is a pay what you can ticketing approach. The artistes themselves would be surprised at the number of people attending their shows.
Their only challenge would be to put trustworthy people at the entrance points who will record every amount handed in by each individual. They might even get a surprise from some of the country's mbingas who will donate $50 to $100 in their bid to support the arts. Some will be happy to bring their whole family to these concerts knowing that the gate fees will not be too expensive.
It sounds crazy but let one big artiste try this pay-what-you-can model and he will also be surprised. Once successfully done, he will never leave this method of ticketing. It will work as long as it is given enough publicity. During these hard economic times, it is one way of attracting those music lovers who would never attend a concert due to the high fees the artistes charge at the doors.
Another way is to have reduced-price tickets available for students or seniors, or for last-minute buyers. The idea behind this is to give students' unions at polytechnics or universities cheap tickets on production of a student union card. This can be arranged with the union secretaries or presidents.
Some will ask"What about those who aren't students or seniors, but are still challenged by rising prices?" This is where the pay what you can model can work.
The obvious solution would be for musicians simply to systemically lower prices — without expecting patrons to comb through websites for special ticketing programmes or know how to game the dynamic pricing system.
As much as one would like to hope that registration for your event will spread organically through posters or word-of-mouth, it doesn't often happen that way.
Even the best events still need promotion strategies to get the word out about them.
Creating an event promotion strategy is crucial for a successful event.
I will give you an example of what I did as a marketing strategy to encourage audiences to come to an event:
What I did with the band Aswad, many years ago, was to organise what we termed a free concert open to "strictly Aswad fans only". The only proviso we put in the advertisement was that each fan would be allowed entrance at the concert on condition they showed an Aswad single or album at the door. The cost of a seven-inch single was only one pound at the shops.
Normally, Aswad would charge five pounds entry fee at the door.
We thought that this would be an innovative way of attracting audiences. We placed four sales ladies outside the venue to sell the records to those who had not bought them from the shops.
At the concert, some 2,500 singles were sold. That is dual promotion as the records were sold instead of concert tickets. The low price of the single attracted those who would not normally attend the concerts because they were too expensive, and it also gave the audience a chance to listen to the music from home.
People are happier when they spend their money on a tangible thing such as a record they will take home after, than just to pay for entertainment.
Musicians and music promoters might be nervous about trying out the pay what-you-can-model as the majority of the attendees can would rather pay small amounts than the prescribed prices. One thing guaranteed for certain is that if the artiste is popular enough, the venue will be full.
However, for those musicians and promoters in doubt, there are several ways which they can use as event promotion strategies.
An event promotion strategy is a comprehensive game plan aimed at creating maximum exposure for your event and driving registration.
Techniques for getting the word out include email campaigns, paid advertisements, cross-promotions and more.
The first strategy is to engage music fans who already know the artiste from previous concerts.
This strategy is also known as remarketing: as it re-engages past music fans based on their previous event attendance.
One method is to filter through customers' information to create a targeted e-mail list of people who are likely to attend your next event. Use your existing customers' emails as the main starting point for a new email marketing campaign.
Facebook, LinkedIn, and Google allow for re-targeting advertisements. After a visitor leaves your website, they will see your poster campaign or a paid advert for your event in their social media newsfeed the next time they login.
Sometimes Google AdWords text-only advertisements aren't enough to entice your customers. You need a way to show them your stunning graphic designs for a more immediate appeal.
Facebook, LinkedIn, and YouTube allow marketers to show targeted visual adverts, such as graphics and videos, to potential customers in their social media news feeds or before and during YouTube videos.
These adverts can be set up to be triggered by specific search results, setting up a target demographic, showing only to a specific location, or to show to people who follow your competitor's pages.
There are many ways to generate leads online to grow your email list. One of the most popular is creating a landing page that offers a free download in exchange for an email.
Create a Google advertisement that directs to your landing page.
Once your visitor is there, all they need to do is enter their email address to download your free guide, white paper, etc. From here you can add their email to your drip campaign.
People are highly willing to promote your event for free if there's a chance that they can win a freebie. Ask people to bring two or three customers and you let one in free of charge.
Alternatively give away prizes to participants that refer the most people or run a social media contest and announce the winner who has the most likes or comments.
Repurpose your past video footage from last year's event to create a new highlight reel that can be easily shared and viewed across online channels.
Include this pre-event promotional video in your email campaigns, on your social media pages, and your website. It's the easiest way for new participants to get a feel for your event before they even read about it.
With these suggestions, it is my belief that in this day and age of economic hardships, artistes should do more to avoid poor attendances at their concerts.
Feedback: [email protected]
Related Topics