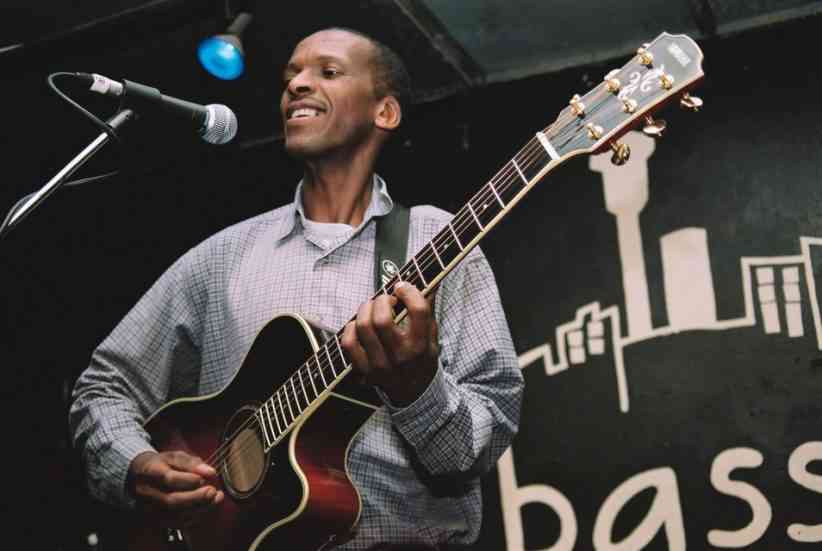 Last weekend the Zimbabwe Jazz Community Trust in conjunction with Alliance Francaise made it possible to bring to Harare, Louis Soyaphi Mhlanga, one of Africa's most versatile and respected guitarists of the 21st century.
I was privileged to attend this concert at the Alliance Francaise de Harare. Watching him play brought back memories of my being in the same band with him in London way back from 1977 until 1982 when we called ourselves The Stars of Liberty and later, Shaka.
This time, he was backed by Kelly Rusike on bass, Kuda on drums and members of Jazz Invitation who are an amazing band full of very talented individuals.
If you ever get the chance to see them do it, you would certainly love it. They put on a great show, full of energy and passion. There was a lot of coolness in this group of musicians. This is not the first time he has used these musicians to back him.
Louis is a focused leader who has learned to coach and trust the musicians he works with. These musicians have not let him down.
I'd say there's a whole lot of magic going on.
From our first meeting, back in 1977, Louis and I connected and created instant synergy and great energy. We formed the Stars of Liberty band and did gigs all over Britain for five years.
He later went to Lagos, Nigeria where he played with King Sunny Ade before returning to Zimbabwe. He has performed on some of the world's best stages including Carnegie Hall, the Montreux Jazz Festival, North Sea Jazz Festival and Glastonbury.
He has toured many countries around the world, including Brazil, France, Spain, the Netherlands, USA, and multiple African countries.
By bringing the guitar maestro, Louis Mhlanga, to serenade his hungry Zimbabwean fans on this day of celebrating the creativity of jazz, Filbert Marova, the artistic director and other members of the Zimbabwe Jazz Community Trust who include Tinashe Mukarati, Robert Basvi and Kumbula Kuyaziwa gave each one of us a treat. Many thanks also go to Laurent Chevalie, the Ambassador of France in Zimbabwe and Fanny Gauthier, the director of Alliance Francaise in Harare, without whose support, a massive show of this nature, would have been impossible.
It was during the time of Stars of Liberty, that Gary Wallis a 17-year-old English boy who had briefly played drums with us joined an English band known as Duran Duran.
One Saturday morning, Gary called me asking for Louis's telephone number. I asked him why he wanted his number and he told me that Ray Davies, the lead guitarist of the Kinks band had fallen ill and was in hospital, yet they had an important highly paid gig that night which they could not afford to lose. The Kinks were an English rock band formed in Muswell Hill, North London, by brothers Ray and Dave Davies.
Gary had recommended to them to take Louis to fill in that gap. I gave him Louis's phone number and they negotiated with Louis.
There were only eight hours left before the gig and Louis was sent a cassette tape by Ray's brother, Dave Davies with the music repertoire they were going to play that night.
Within an hour he had rehearsed and mastered the eight songs on the tape. At the gig, Louis impressed the band which comprised John "The Baptist" and John Nobby Dalton and all of them thought that he had outperformed their original guitarist.
At the end of the show, he was paid his session fee and the band asked him to join them permanently. He politely turned them down and told them that he was not the style of music he was into.
Later, Gary asked me to persuade Louis, but Louis was adamant. The Kinks continued with Ray Davies after he came out of hospital.
In addition to being globally respected and acknowledged, Louis Mhlanga is best known for his warmth and humility.
Louis Mhlanga is respected as one of the great and most versatile African jazz guitarists of our time. His home-grown talent is unquestionable. He unfailingly impresses audiences from all cultures and walks of life with his intuitive, inspiring, and unique use of his instrument.
He has published, featured on and produced at least 35 CDs of original music, and in addition to his solo career, Louis is a master of collaborations, and has worked with many musicians through the decades of his career.
He worked with the late Oliver Mtukudzi on the Mahube Project. Iconic South African musicians like Hugh Masekela and Vusi Mahlasela; Ernest Ranglin; bassist, Zimbabwe's Jimi Indi as Musik ye Afrika; Dutch upright bass player, Eric van der Westen (with whom he released three albums, one of which also features Malian artist, Habib Koité); Steelpan jazz maestro, Andy Narell; and with Madagascan legend, the late great, Regis Gizavo are just a few of his collaboration partners.
He has also collaborated with famous American jazz artistes such as James Ingram, George Duke and Al Jarreau. In an ongoing relationship since 2007, Louis performs with the American-based project, Playing for Change, which comprises musicians from the entire globe, and sees him perform his special brand of guitar wizardry across all states of North America (See this on You Tube).
In addition to being globally respected and acknowledged as the master of the African guitar, Louis Mhlanga is best known for his warmth and humility. He is a legend in the musical fraternity, the artistes' artist, and his distinctive style is now being emulated by a host of young guitarists.
In Harare on Saturday October 29, with 'Bra Louis' headlining, the festival, featured seven other outstanding artistes and groups who have been leading jazz in Zimbabwe for many years, as well as newcomers, some emerging from Prince Edward High School, which is known for producing fine young musicians, many of whom have gone on to perform around the world.
On the Harare stage, was in order of appearance: Intotal, TGV Entertainment, Prince Edward Jazz Band, Tanga wekwaSando, Louis Mhlanga, Dudu Manhenga, Jeys Marabini, Ngoma Ingoma and Jazz Invitation.
Although Tanga wekwa Sando thrilled the audience, he did not have a full band. There was no bass player neither was there a keyboards player. He was dependent on the CDs being churned out by DJ Ronald Chiwanza and the entertaining gimmicks being performed by John 'Chibhodhoro' Myambo who was on the congas.
Commenting on the Zimbabwe Jazz Community's input into the festival, director Filbert Marova said: "We are delighted that for the first time the festival is happening in two cities, Harare and Bulawayo. After the bleak Covid-19 lockdown years, some of our objectives have been met, and more restaurants and venues in Harare are opening up to live jazz music entertainment, after the genre made a comeback with sustained events by 'Back2Jazzics' events staged by the Trust. We are bringing jazz back to the people again, and they'll love it."
Indeed, the audience at Alliance Francaise loved Louis Mhlanga's music when he belted for one long hour some well-rehearsed and mainly instrumental songs from his variety of albums which ranged from Shamwari, International Rhumba, Honaka, Song In My Dream, Zuva, Mari Hakuna to Gwenya Mbira.
There were big rounds of applause in between these songs as the Jazz lovers showed their appreciation to the guitar maestro.
The last tune from his set was Distant Lover to which the girls sitting near me exclaimed: "Äh! Amai Chisamba!" presumably because the song has been featured at the opening and closing of ZBC's Amai Chisamba show.
On getting off stage, Fanny Gauthier had a tough time trying to wrestle Louis from the group of fans who had surrounded him to get a photo shoot. I felt sorry for her as she was left totally discombobulated by the turn of events.
There is no doubt that Louis thrilled the audience and everyone I spoke to said that they were satisfied with this international star's performance. He is back in Johannesburg now.
Related Topics